Want to Protect Privacy and Project Professionalism? Try a VoIP Phone System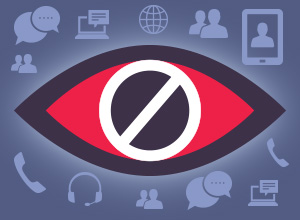 One of the coolest things about VoIP is that your location becomes strictly your business. Imagine taking work calls that you've forwarded to your cell phone—but callers only see the work number and workplace identity. Picture going anywhere—even traveling internationally—and nobody has any idea you're not at your desk. There's a great new way to project an always-professional image, and it's possible because of Voice over Internet Protocol (VoIP) technology and some user-friendly mobile app engineering.
Just ask users like Austin Myers, VP of PSA Insurance Services, who says he loves the convenience and the professional image he can project with VoIP.
"The 8x8 [VoIP] mobile app is my most favorite feature. It allows me to work from home when needed—or just about anywhere for that matter—and I don't have to compromise my personal cell info to my clients."
Many attorneys also appreciate the privacy, as well as the convenience, of VoIP—especially the easy forwarding to the 8x8 mobile app on their smartphones.
"I handle a substantial amount of criminal defense cases in my private practice," says David W. Lawler, who works at the Adam B. Lawler Law Firm in Marion, Illinois.
"On a daily basis, I get a number of intakes—potential clients—which 8x8 allows me to call back from my 8x8 iPhone app, where the number shows up as my office line," says Lawler.
"Therefore, the potential client does not have my personal cell phone, and if the call is missed, they will just ring back to the office, where a proper intake is done," he says. "This feature saves me valuable time and protects my privacy."
But Sometimes, Privacy is Crucial to Your Mission
Those are some pretty typical reasons why a business could fall in love with a VoIP system. some companies' mission almost requires the privacy or the find-me-follow-me capabilities of their VoIP phones.
Advice from a Pro Whose Work Can Take Him Anywhere
But here's a story that's hard to top, from Chris Rumbaugh of Associated Investigative Services, who not only likes the privacy aspects, but the fact that he can use 8x8 business VoIP almost anywhere.
"I am a professional private investigator and bodyguard. My job takes me to many locations, and in some places, I have no cell phone reception," he explains. "But with 8x8, I can take my office with me and conduct my office phone activity wherever I have Wi-Fi or an Internet connection."
He continues, "In my job, it is sometimes important for my location to be kept secret, and 8x8 has kept me locally connected without the other party even knowing I was on the other side of the world. Also, having my voice messages emailed to me makes it quite easy to reply to them without having to access phone lines. And when I am just working on my laptop in a coffee shop or library with the use of a headset, I answer my calls via my laptop and others sitting in the area are not even disturbed by the phone conversation."
How far has Chris gone in testing 8x8's find-me-follow-me-but-keep-my-cell-phone-number-out-of-this capability? Let's let him answer that question.
"I recently I found myself in the remote North Carolina Mountains with no cell phone reception, but I did have an Internet connection," he says. "I made all of my office calls and received the same very easily from my lap top, which kept my professional office image up and effectively running."
Does it Work Internationally? Ask a PI
Chris has even used these capabilities internationally: "I ran into the similar situation when I was on assignment in Japan and needed to make local office calls—from the other side of the world. I had Internet access and just like that, I am still up and running. I did have to deal with 13 hours of time difference, but my clients received my calls and I received their calls."
And that concludes Chris's "investigation" of his 8x8 VoIP phone's business capabilities. To learn more about these capabilities and how much you can do with the right phone system, click here.