Want Seamless Connectivity Around the World? Try a Virtual PBX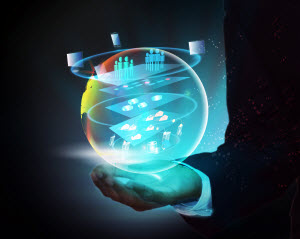 Cloud communications have brought a new level of freedom to roam for businesspeople—and they're driving down expenditures for international travel, as well.
Take, for example, Artco Group employees, who used to have to answer calls at their desks. CIO Damian Brennan says that thanks to the Internet cloud, many of those old desk phones are now covered in dust—and he's saving lots of money, with phones that fit the way his company does business today.
From the US to Spain, Virtual PBX Tech Helps Users Connect
"Recently I was backpacking in Spain, and I answered a business call on my iPhone with my 8x8 mobile app. Our virtual PBX gives us seamless connectivity around the world, which is huge," says Brennan.
His cloud communications provider—8x8—lets him take calls on his own personal smartphone as if it's his business extension, and he can turn the forwarding on and off as he wishes.
Employees of the steel plate manufacturing company who work overseas for longer periods also have the option to bring along an 8x8 desk phone and plug it in anywhere that has an Internet connection. The virtual PBX software and mobile apps come with a "find-me, follow" me capability, and even the VoIP desk phones are plug-and-go.
When in Rome…Plug in Your Virtual PBX
"I was working in Italy for a few weeks and took one of the VoIP desk phones with me," says Brennan. As soon as I plugged it in, it worked."
Cloud-enabled meetings, faxing and other capabilities add to the go-anywhere virtual PBX service that Artco Group enjoys.
No More $6,000 Phone Bills Coming Back from China—With Cloud Unified Communications
"8x8's mobile app and portable phones let us take calls anywhere and everywhere," he says.
"And I had sales guys who used to come back from China with $6,000 mobile phone bills. Not anymore, not since we went with 8x8."
After years of struggling with poor-quality, legacy phone service, Artco Group now has crystal clear voice quality, much lower international phone bills, and reliable service even when disaster strikes. All of which has Artco Group managers wondering wishing make the switch to a virtual PBX a lot sooner.
Learn more about go-anywhere unified communications and get the full story here.