How Business VoIP Virtual Phone Numbers Can Make You More Money Than Google AdWords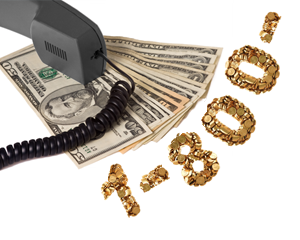 When you see the phrase "internet marketing," what comes to mind? Google AdWords? Search engine optimization (SEO)? Social Media? Viral videos? All of them? Maybe, but I bet the one thing you DON'T think about is business VoIP phone service.
If that's true, you're probably missing out on THE most important element of Internet marketing for small businesses, and here's how to solve it all the way to the bank!
Let me take one step back: I'm a big fan of all the popular methods of online marketing. But from a small businessperson's point of view, all of them have one major problem in common: None of them—none!—actually put you in contact with your customer.
Let's look at Google AdWords, for example: an extremely popular form of internet marketing. The program provides a great way to buy exposure when you're competing against larger brands.
Here's the problem though, let's say you run a great campaign (and have spent the money to prove it!) and lots of people click on your ads: success right? Wrong!
What to Do When Nothing Happens
Here's why: after the potential customer clicks on your ad, and goes to your website, what happens next? Most of the time: nothing, that's it. So, to recap, you've just spent hundreds (or thousands) of dollars, and the only real benefit that you—and most small businesses—get from this expensive exercise is the ability to track which words were the most popular. Now, that is useful information, especially to Google, but it's not as useful as an actual sale, and that's where business VoIP comes in.
You see, business VoIP services such as 8x8's Virtual Office also run over the Internet, and they offer a feature called "Virtual Numbers," which are local or toll-free phone numbers that aren't directly associated with a phone line. Rather, they're usually used to forward calls to predefined people, voicemail boxes, or extensions. Just like Google Adwords, you can use business VoIP features like Virtual Numbers to track and measure advertisements with one major difference: When Virtual Numbers work, you actually get someone on the phone, and that's where the sales process can really begin. Oh, and it can be cheaper than lots of expensive keyword advertising, too.
In my monthly webinar Use Virtual Office to Look Bigger, Grow Bigger I go into this in detail, but here I'll give you the highlights. But for now, let's start with Virtual Numbers, since they're at the center of this guerrilla marketing strategy, (assuming you have 8x8 business VoIP, of course).
Most businesses get a virtual number as their main business number. That's a great place to start.
But then, as a company grows and starts advertising, most small business owners make a critical mistake. They advertise the same number on several different advertisements.
Think about that: you have dozens of places you can advertise your business – both online and off – but you're probably putting the same number in all of those locations, so, when a call comes in, there's no way to tell where the most customer calls came from! You have no way of knowing where to advertise more and where to pull your ads.
Business VoIP Virtual Numbers Show Where Customers Are Finding You
But with business VoIP Virtual Numbers, you can see where your customers are finding you. Want to know if the advertisement in your local newspaper or the new advertisement you're testing online is more successful? Easy, just use different phone numbers, and run a report. You'll know which advertisement customers saw by the phone number they called.
You can run them on the fly or schedule them and see in near real-time which of your ads is getting you the most calls. When you learn which it is, you can make that ad bigger, put more ads in similar places as well as cancel advertisements that aren't working.
This is one of the biggest benefits of running your phones over the Internet—which is after all what the "I" in VoIP stands for. That's because, unlike land lines, which need to be installed physically and manually, new Virtual Numbers can be added and removed in minutes, which lets you test new advertisements on a monthly or even daily basis.
Business VolP Virtual Numbers Put You in Customer Contact
Of course a great thing about business VoIP Virtual Numbers is that, unlike Google AdWords, this strategy actually gets live potential customers on the phone, which I'm sure you'll agree is worth a lot more than a simple "impression" on your web page. Even better, you can get one Virtual Number for an entire month for the same cost as about 10 clicks from a Google Ad Word. Basically, this technology lets you synergistically combine the power of "good-old-fashioned" telephone conversations with the flexibility and agility of internet marketing.
We'd also like to hear from you. Are you using business VoIP Virtual Numbers to help promote your business? Let us know in the comments below.
To learn more about 8x8, visit www.8x8.com.