How 8x8's VoIP System Weathered the Storm of the Century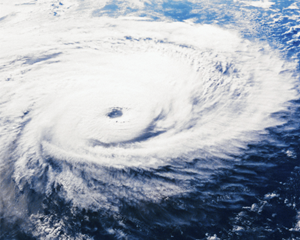 Hurricane Sandy is one of those rare events that remind us how frightening the power of nature can be. Scores of people have been killed or injured, and millions were left without power on the East Coast. When this kind of disaster strikes, the first thing we instinctively do is protect ourselves and our loved ones as best we can. Then once the worst is over, we try to get back to normal.
While no one is immune from natural disasters like Sandy, every business needs a continuity plan. And selecting the right communications provider is a critical part of that process. Although 8x8's voice services were not disrupted during Hurricane Sandy, other providers experienced outages that made it difficult for their customers to resume business.
Over the years 8x8 has taken measures to protect our customers and keep them in business—even when the worst happens.
For example, our VoIP network is supported by redundant data centers on the East and West Coasts. Both data centers store all our Virtual Office customer information in real time. If catastrophe strikes one, the other is ready to take over. Fortunately, this wasn't necessary during Hurricane Sandy but it's nice to know we have our own continuity plan.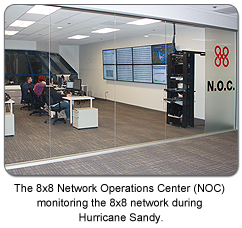 To add more protection, each 8x8 data center has redundant servers, routers, switches and power supplies. Our network infrastructure also has multiple independent links to major Internet service providers and the public switched telephone network. When one connection fails, another can immediately take over the full load.
If you can't get to the office during a disaster, 8x8's flexible, cloud-based solutions can still help you keep your business running.
Virtual Office Mobile App. Our mobile app for iPhone or Android phone lets you make and receive calls, check messages, and manage call forwarding. The app works over your cellular or WiFi connection.

Virtual Meetings. 8x8 Virtual Office Pro customers can meet with coworkers and customers using our Virtual Meeting web conferencing feature.

Log in anywhere. You can use any computer with Internet access to log in to your 8x8 extension and update call forwarding, take calls, and check messages.

Manage your account remotely. With 8x8's web-based Account Manager you can make real-time updates to your phone system. For example, you can record new greetings and prompts to let customers know office hours have changed, or forward extensions to cell phones so your employees can work from home or another remote location.
Although disasters like Hurricane Sandy are beyond our control, you can take steps to protect your business. 8x8 solutions have built-in redundancy, mobility and flexibility to keep you connected during unforeseen man-made or natural disasters.