VoIP Lets You Spend Time Off NOT Worrying About Work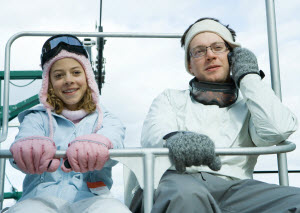 Have you ever had a vacation or holiday darkened by worry that something really, really important might happen back at work and you might miss it? An opportunity missed or a crisis in the making? If so, you'll appreciate the freedom that cloud-based phone systems offer to take time off, knowing that if something big happens at the office, you'll know it and be able to respond quickly.
Vacation Pros Get Away
Of course, if anyone knows how to travel and be reachable, it's people whose business is travel. Most of them are regular users of cloud-enabled features such as call forwarding, a mobile app, and email-to-voicemail, which give them easy access to calls and voicemail, anywhere in the world.
"I own a boutique travel business with six independent outside sales agents and clients in 22 states and two countries," says Bob Shaffer, owner-agent at Cruise Holidays Land and Sea. "I can be in Europe, South America or Asia and still receive calls from clients needing assistance in planning their next custom vacation. Today's communication technology has made my business model possible and profitable!"
Travel Internationally—And Worry-Free
"I downloaded the 8x8 to my mobile phone and went to Barcelona, Spain on vacation," says Brigitte Benichay, broker president of Rich Homes and a member of the board of the French-American Chamber of Commerce.
"The beauty is that I conducted business like I was home. It was working perfectly and clearly, and I didn't have to pay high roaming or long distance charges, buy a local phone or get a SIM card," says Benichay. "I really enjoyed the trip, and I highly recommend it now."
Excellent Customer Service—Even While You're Away
And with a powerful, flexible auto attendant, it's easy to specify exactly who should get calls—and when—during holiday and vacation hours.
"We love the 8x8 message system and the auto attendant," says customer service expert Ali Gregoire of Skala Insurance.
"8x8 makes it very easy to set the phones on a holiday schedule—with the appropriate greetings to match each one—and the auto attendant lets us help our customers even when we are not in the office," says Gregoire.
So if you want to enjoy another guilt-free slice of turkey or another ski run, make sure your phone system is up-to-date and has the flexibility to roll with the punches. And if you're already an 8x8 customer, click here to learn how to order new holiday music or set your auto attendant up for the holidays. Or if you're new to the power of the cloud, learn how it can help you roam globally during the holidays without missing a beat. Finally, if you want to see just how far you can go to "get away from it all" and still be reachable if business calls, click here.