Use VoIP to Be There for Your Customers and Teams—Even Half a World Away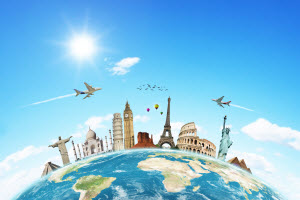 If winter is getting to you, remember that you can get away from it all—without dropping the ball back home. With Voice over Internet Protocol (VoIP) communications, your calls can seek you out around the globe—if you want to be found, that is—until they catch up with you.  And, your customers and team might never know where you are when you pick up their calls.
Do Business from the Beach
"It is so easy to transfer my telephone calls to my cell phone, I can conduct business away from the office and no one knows that I may be sitting on a beach somewhere," says Deanna Sidley of Paradise Travel.  "It is also helpful that I can access my voice mails from any computer."
Your Important Calls Can Find You in the Most Surprising Places
8x8's VoIP-based system's find-me-follow-me features can often get phone calls to the most surprising places.
"I was able to handle one situation from the south rim of the Grand Canyon without missing a beat!," says Mary Donovan, who handles human resources for FamilyLife. "On two different occasions, I've had very important phone messages track me down via 8x8 email."
When Your Job is to Be There for Customers
Even professional customer service pros use business VoIP to reassure customers that they can always get help, no matter where their customer support representative happens to be.
"I love that no matter where I am in the world—Copenhagen, Valencia, Los Angeles—my customers can reach me easily and seamlessly. They dial one number, and the phone system quickly finds me and rings," says Leslie Fitzgerald, senior director of customer care at eNeura.
Watch a Copenhagen Sunset—And Help Customers Too
"Customers don't know they are chatting with me while I am sitting on a houseboat in Copenhagen Harbor watching the sunset! All they know is that I am there for them regardless of the time zone I am in at the moment," she says.
Click here for more on how to use VoIP for guilt-free travel. And to see how far away from it all you can go and actually get your calls, check out our video, 8x8 Virtual Office Mobile App vs. the Mountain.