Use Hosted PBX Technology From 8x8 to Look Bigger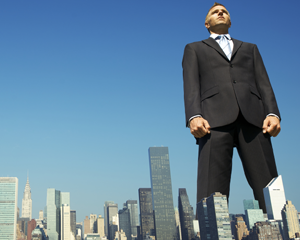 In today's hyper competitive environment, it's important to use every resource at your disposal to give yourself an edge over the competition. The Auto Attendant that comes included with the 8x8 Virtual Office hosted PBX is one tool that you can start using right away to grow your business!
Even if you don't immediately recognize the words "Auto Attendant," you've surely encountered one before: it's the pre-recorded message that plays when you call a business that offers you options such as: "for the corporate directory, press 1; for the sales department, press 2; to dial by name, press 3;" etc. The 8x8 Auto Attendant lets you provide far more personalized and efficient service than routing every missed call into a general voicemail box;you can use it to achieve the following benefits:
For smaller companies and start-ups, an Auto Attendant can provide a more professional image and make your organization seem bigger than it is. It's easy to order professionally-recorded greetings that make your business sound as big as your biggest rival. There's a lot to be said for the self-fulfilling prophecy of looking bigger to get bigger.
For companies that already have a receptionist, an Auto Attendant can serve as a backup during high-call-volume times or during a lunch break.
An Auto Attendant can provide all companies, large and small, with intelligent after-hours messaging, routing calls to the appropriate person (or team of people) for faster response rates and increased revenue. And, the voicemail-to-email conversion means that your firm has an additional advantage in getting back to potential customers first.
The best part? If you already have 8x8 business phone service, the Auto Attendant is included, so you can get started right away. You can't beat "free" as a price, and the tiny investment in time that it takes to set it up.
How Real Businesses Benefit from the Auto Attendant
It's not hard, and some businesspeople even say that the 8x8 Auto Attendant is their favorite feature.  "I love the ability to tailor the Auto Attendant to our exact needs, and the simplicity of the system," says Bonnie Luntzel, office manager at accounting firm, Zalaznik, Moore and Associates.
The Auto Attendant is also great for those who travel a lot, people like Josh Holowicki, President at Steinas Systems, a lighting and stage equipment solutions provider. "It is very important to me that I am accessible without giving out my personal cell phone number. My 8x8 business service with auto attendant is my answer," he says. "Clients can reach myself, or any of my key team members, by dialing our main number. From there, 8x8 takes care of the rest. The client has no idea if they are talking to us as we sit behind a desk, or in an airport waiting for a plane."
As Yvonne Roberts at Vista Village Pediatrics puts it, "What I love most about 8x8 is the ability to customize the auto attendant to our business hours and the flexibility to customize each day of the week. I also love the ability to make exceptions to our business hours whenever we need. And the most lovable part is being able to access our auto attendant from home, work or on the road!"