Unified Communications, Call Center Software and CIO Customer Karma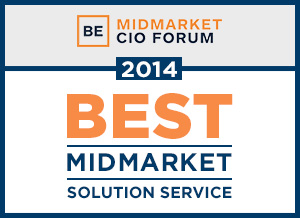 Despite popular TV shows to the contrary, in real life there's rarely a surprise witness around when you need one. But 8x8 recently ran into a number of unexpected advocates, out of the blue, at the recent [BE] Midmarket CIO Forum. Their testimonials about our unified communications and hosted call center software helped 8x8 to get the CIO vote for the best midmarket solution in the service category.
Here's the full inside scoop.
Call Center Software and Unified Communications Are Hot Topics
First, a little background. The [BE] Midmarket CIO Forum is an exclusive gathering of CIOs who have an immediate need to evaluate technologies—such as cloud-based solutions, virtualization, and business intelligence—to help them in their role as IT leaders of their midmarket organizations. Vendors with right-sized solutions and technologies for the midmarket meet directly with CIOs in boardrooms, one-to-one meetings and networking events.
The cool thing about the event is that high-level decision makers can quickly identify relevant technologies, immediately engage in peer-to-peer best practice discussions, and hear about current trends and topics from leading market analysts. At the end, the CIO attendees vote on the best solutions in four categories.
Our 8x8 team presented at three boardroom sessions of approximately ten CIOs each, plus we held at least 25 one-on-one meetings with CIOs. There was a lot of interest in hosted call center software and cloud-based unified communications, and we had so many scheduled one-on-one meetings that we were completely mobbed by interested attendees during the booth hours.
CIOs Grill an 8x8 Unified Communications Customer About 8x8
At the two-and-a-half-day event, we had already run into several existing highly valued 8x8 customers in attendance, including Artco Group, MatrixOneSource, CGI Federal and Global Express Services.
Then, as we were making a 25-minute presentation, a few words by a knowledgeable and satisfied customer made all the difference. As we finished the presentation and the demo, some of the CIOs asked Eric Tewey, CIO at MatrixOneSource, about his experience with 8x8.
Eric has experienced all aspects of our unified communications suite, so he is extremely familiar with everything from our business VoIP phone service to Virtual Contact Center, our hosted call center software.
You could have heard a pin drop. We work hard to provide great services, but we had no idea beforehand what he was going to say—or even that he was going to be there, for that matter.
So we were thrilled when he started to speak, calling 8x8 "exceptional" and the "best IT decision I made all last year." He went on to say that 8x8 is a great organization that delivers exactly what we say we will, and that our support was exemplary.
We Didn't See This Coming
Then—and this is the part we could not possibly have anticipated—he said that when he calls 8x8 support (which is infrequent), he "brings in his staff to listen in to see how a world class support organization handles issues and works the problem."
After Eric's testimonial, almost all the CIOs in the room asked for direct follow-ups with us.
Later, we found out that the CIOs had voted 8x8 the winner for Best MidMarket Solution—Service.
Thanks to All Our Unified Communications and Call Center Software Customers!
Or more correctly, our wonderful customers and their CIO colleagues won it for us. 8x8 thanks you all for your support, and a special shout-out goes to Eric. We always try to do the best job possible for our customers, and it's really heartwarming when our customers notice—and describe their experience to their peers. Thanks, everyone!