Transform Customer Experiences with Contact Center Mashups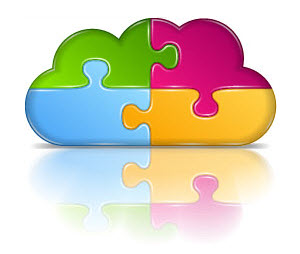 What's good for the Web is great for the contact center, and cloud-based contact center software is borrowing the idea of the mashup to take customer service to new levels.
We take Web mashups for granted in our daily lives. Often when we surf the Web, we see pages that are delivering content from a variety of sources.
For example, Hotels.com does not provide the hotel information or do the booking. It's presenting a framework it uses to display hotel information and reservation tools from the properties themselves. In addition, they provide maps—brought to you by Google—and Trip Advisor reviews that come from, well, Trip Advisor.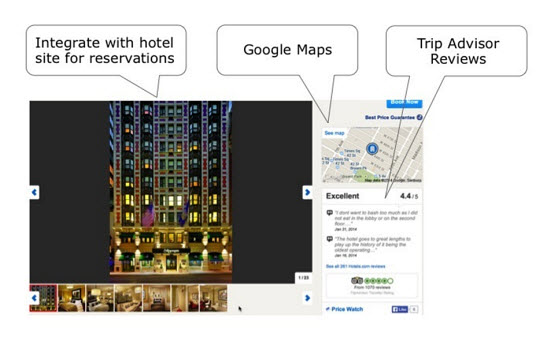 By bringing content together from multiple sources, Hotels.com can provide a much better user experience than it could on its own. Instead of trying to replicate services and build everything itself, Hotels.com is really an aggregator, bringing together best-of-breed services to give its customers the best possible experience.
Corporate Mashups Give Employees the Best Possible Experience
As more and more business solutions move to the cloud, we are starting to see mashups that bring similar value to the business world:
Workday and other HR cloud-based offerings bring together multiple functions that allow them to serve as a single source for an organization's HR needs.
Salesforce, Zendesk and other cloud providers of customer service and CRM solutions have entire app stores of partner solutions that are integrated into their applications.
Why Call Centers are the Last to Change
The call center has been one of the last functions to embrace cloud solutions. There are some good reasons for this:
Call centers are customer-facing, and there is no margin for error with customer interactions. As a result, call centers have opted for the false sense of control that comes from having equipment on site.
Telephony requirements of traditional call centers make it harder for many organizations to feel safe moving their call center solutions to the Cloud.
Older ACD systems and the other tools associated with call center software required a great deal of customization, many call centers today are dependent upon "Frankenstein" infrastructure so complex and fragile that it cannot be altered without putting all calls at risk.
A Tipping Point in Cloud Contact Center Software
However, we have clearly hit a tipping point, as more and more organizations consider moving their call center operations to the cloud. Those that do benefit in these ways:
They always run on the latest version of the vendor's software.
They run a lighter, more flexible organization, with tools that empower contact center managers to take control of their services, and give them the flexibility to scale up during busy times and back down when things are quiet.
They can move to a pay-as-you-go model and only pay for services they need.
Critical mass has been achieved and contact center vendors can start offering the power of the mashup to poor, underserved call center agents, for the first time.
Zendesk and 8x8 Mashup Boosts Customer Service Levels
This brings us to the 8x8 and Zendesk integration. It's a classic mashup; bringing two disparate services together under one roof (the Zendesk desktop in this case) to provide a new level of services for customers.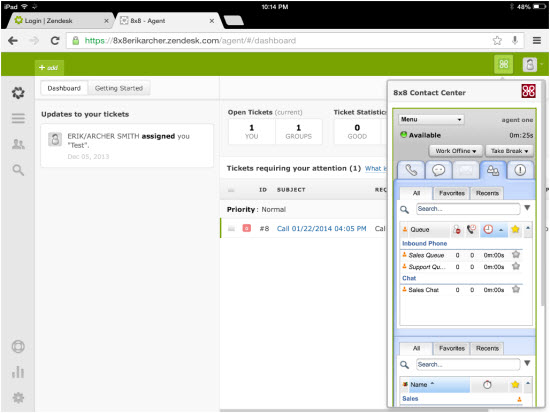 True Mashup Moves Beyond One-off Contact Center Software Implementations
The 8x8 desktop fits entirely in the Zendesk desktop, placed over to the right-hand side of the screen to maximize efficiency. There is nothing custom, or one-off about this integration; the entire 8x8 desktop lives happily within the entire Zendesk desktop. You get the full functional capabilities of each product, managed and hosted by each vendor. When 8x8 updates its contact center software, you are instantly up-to-date, and no changes to Zendesk or the interface are required. The same goes for Zendesk updates.
Even the reporting is shared. 8x8 sends key reporting information to Zendesk's reporting database so Zendesk can give you a full picture of how well you are serving your customers. In addition, 8x8 provides still more detailed reporting and runtime status information, to let you closely manage the performance of your agents.
The Future of the Contact Center
This is the future of the contact center. The Cloud helps 8x8 and Zendesk provide best-of-breed solutions, closely integrated to make customer support easier and more powerful than what companies have come to expect from last-generation call center software.
For more information on how Zendesk and 8x8 combine to transform your customers' experience, click here.