Top Trends at Enterprise Connect 2018
Recently at Enterprise Connect in Orlando, leading communications, collaboration and contact center vendors showcased their most recent and innovative solutions for IT decision makers, application developers, resellers and industry influencers. I remember years ago, the major themes at the conference were the big vendors pushing siloed on-premises systems, such as telephony, video conferencing, contact center and integration to business applications. The next big wave was cloud, which introduced point solutions for voice, collaboration, conferencing and messaging to a broader audience that delivered lower total cost of ownership and increased productivity compared to on-premises systems. This wave was revolutionized by innovative companies that entered into the market and expanded their services into the enterprise. This year, I noticed that the industry was undergoing another transformative shift as companies look to derive higher value from enterprise communications to grow their business and accelerate revenue.
Some of the main themes were:
Integrated unified communications and contact center
Team messaging
Machine Learning and AI
Integrated Communications and Contact Center
SearchUnifiedCommunications wrote about Enterprise Connect that "the line between unified communications and contact center is blurring as organizations look to bring both technologies together via cloud adoption." The article noted that cloud is helping companies break down the silos as they recognize "a growing need for tighter integration between their communications and contact center infrastructure."
Sheila McGee-Smith, principal analyst of McGee-Smith Analytics concurred that "it's a trend we are going to see more of. Companies saying they are going to need both of these in the cloud."
"8x8 is trying to capture this moment in time when UC and contact center may be the required package" Sheila McGee-Smith said. "It's going to be more than just partnerships; they have to show tighter integrations."
I am proud to say 8x8 is way ahead of the curve in this respect as we launched at the conference our new X Series platform, which combines telephony, conferencing, collaboration and contact center solutions into one platform helping businesses radically improve customer experience. By offering one system of engagement for employees and customers, companies can now optimize valuable moments of engagement with
one system of intelligence, resulting in an exceptional experience for both employees and customers.
X Series drove a lot of interest at the 8x8 booth with high demand at each of the demo stations. This deep interest was captured by CRN, which named 8x8 X Series as one of the 7 Hot UC And Video Products Debuting At Enterprise Connect 2018.
Team Messaging
It was very interesting to notice that almost 90% of the vendors were talking about team messaging solutions. As part of the X Series launch, 8x8 will be adding team messaging into our existing desktop and mobile communications apps to provide a single user experience to all our customers. While the rest of the industry is in denial about team messaging interoperability, this is an issue that 8x8 has already solved and we offer something unique that other vendors do not provide through our Sameroom acquisition. This solution connects rooms on different team messaging platforms. For example: companies that have one department running Slack, another department on Skype and partners on HipChat, can now connect and interact without changing their prefered application and all thanks to 8x8 Sameroom.
Machine Learning and AI
One of the hottest topics at Enterprise Connect was all the talk around Artificial Intelligence (AI) and Machine Learning (ML). While other vendors harped about their bots and such, the importance of the data was shrouded in mystery. Data is the new currency. One core cloud communications infrastructure providing one view of all employee and customer interactions across an entire organization is critical to infuse AI and ML to help companies move beyond basic cost savings, and drive real business change to increase customer satisfaction and accelerate revenue.
As our Chairman and CTO Bryan Martin stated in eWeek:
"We are using AI and machine learning to shift through all of the different data and figure out what is relevant in the context of this information. A lot of the data we get is extremely unstructured—it's spoken sentences, Salesforce records, connection frequencies. The world of machine learning fits that perfectly, because it can suck up all the unstructured data and point out the relationships and trends that are important."
Human analysts might be able to make sense out of that data in time, but machine learning and analytics allows it to happen much faster and drive strategic business decisions more quickly as well.
Besides the top trends at Enterprise Connect, Synergy Research Group named 8x8 again (for the 12th consecutive quarter) as the global leader for subscriber seats in the combined midmarket (101-1000 users) and enterprise (1001+ users) segments of the Unified Communications as a Service (UCaaS) market, which is defined as cloud telephony, conferencing, collaboration and messaging.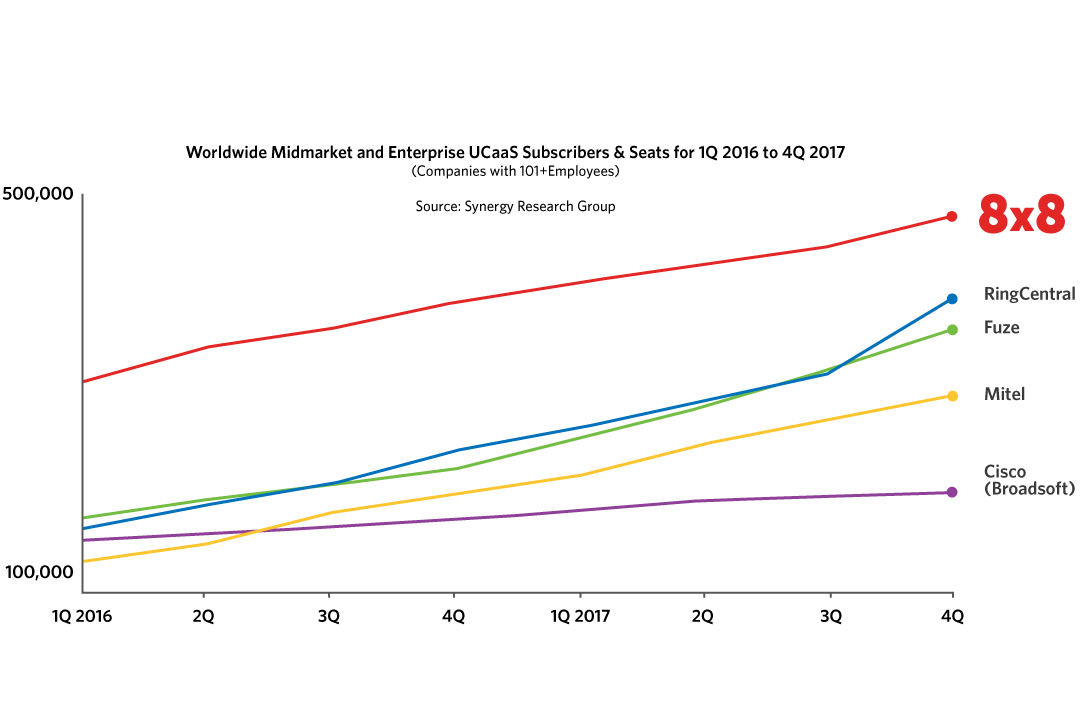 As we saw at Enterprise Connect, the experience is everything and this was validated by customers, press, analyst and other vendors in the industry. We are focused on providing solutions that improve both the employee and customer experience, and leveraging one platform that integrates communications, collaboration and contact center with a new UI, and one set of data in one system of intelligence.