The Power of the Cloud, Now in the Palm of Your Hand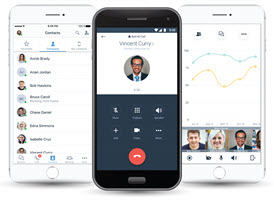 Today, our mobile devices provide us with access to a world of information at our fingertips. In our personal lives our phones and tablets make it easy for us to be reached almost anywhere at any time. Now, 8x8 is introducing an enhanced level of mobility to business communications. 8x8 recently unveiled an updated app that fully encompasses what it means to have the world within our reach: 8x8 Virtual Office Mobile.
The new Virtual Office Mobile app enables users to harness the power of the 8x8 Communications Cloud. Employees at small, midmarket and enterprise companies can now easily manage their business communications from virtually anywhere with access to personal and business contacts.
Mobile app users today expect a seamless, integrated, all-in-one experience. So 8x8 has packed every necessary feature into the app, such as telephony, messaging, and meetings; there's no need to download multiple apps for communication and collaboration.
We listened closely to customer feedback. In this update 8x8 has completely reinvented the user interface, not just for a more elegant, modern app experience, but for an all around improved user experience. The redesigned user interface (UI) puts every feature where users need and expect it.
In addition to the comprehensive UI that integrates communications, collaboration and messaging into a single app, Virtual Office Mobile includes:
HD VoIP over 3G/4G/LTE/Wi-Fi with seamless operation across network types
8x8 Virtual Office Meetings with audio, video, screen sharing and messaging
Quick access to business and personal contacts through Unified Directory
Industry-leading voice quality even under poor data network conditions
The 8x8 Virtual Office Mobile apps are now available worldwide for both Android and iOS devices.