The New Industrial Revolution: How Cloud Boosts Productivity for Manufacturers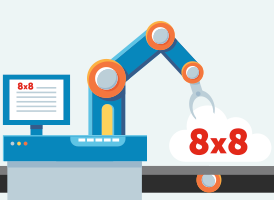 By now, nearly everyone has heard about the Internet of Things (IoT) and how it's transforming everyday technology. From syncing mobile apps with cars to linking every appliance in our homes, the IoT is spinning a growing web of devices for a more connected world.
Make no mistake however, the IoT isn't just for consumers; the industrial space is reaping the benefits of interconnectivity too. Cloud computing is helping transform "old school" hardware-focused manufacturers, with their reliance on complex, enterprise applications, into agile, tech-focused companies with expertly optimized factories and supply chains of the future.
While some manufacturers have already implemented cloud computing for logistics and equipment benchmarking, there are still batches untapped potential for this technology.
Manufacturing Is Ripe for the Cloud
Cloud technology provides manufacturers with immediate access to data—at any time, in any place. This has obvious benefits in terms of optimizing operations, managing inventory, and reducing equipment downtime, but the true capabilities of the cloud extend far beyond the four walls of your facility. To truly take advantage of these advancements in your business, you can leverage cloud technology not only for your production operations, but also your business communications.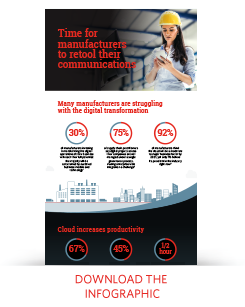 Some manufacturers have already figured this out. According to a recent Economist report, just under half say the cloud will play a critical role in distribution and customer relationships within the next year, while an RSM survey found that a third believe this technology will boost sales and profitability by finding new ways to reach customers. Just like how equipment monitoring via the cloud enables smarter operational decisions, a business communications, customer engagement and collaboration platform creates more visibility across a business and supply chain—connecting employees with suppliers, customers and helping teams work better together.
To maximize productivity, a single cloud communications platform provides a three-prong approach for optimization:
IT Department – Cloud connectivity and smart provisioning frees up IT managers from tedious tasks to focus on higher level projects.
Sales Representatives – The #1 way manufacturers process orders is still by making and taking sales calls. Streamlining the communications platform and benchmarking progress through analytics ensures sales agents are maximizing their time making meaningful connections whether on the road or in the office.
Customer Service – Increased visibility into global contact center operations helps representatives resolve issues more quickly, successfully allowing companies to engage customers on any channel anywhere and providing the same insight to both HQ-based and remote employees for an exceptional and consistent customer experience.
Not only does the cloud enable greater productivity within these teams, but it also fosters collaboration across them. To learn more about how manufacturers are poised for a cloud-based revolution and the benefits it can bring across the supply and demand chain, check out our infographic.