The New Face of Contact Center Is Intelligent, Easy and Instant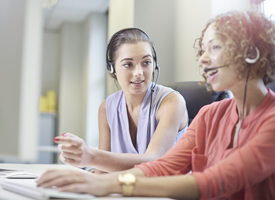 Businesses of all sizes have employees, teams and departments that engage with both internal and external customers on a regular basis. Day in and day out, a lot of time is spent answering general inquiries, handling customer support or employee help desk issues, managing sales activities, responding to HR questions, making collection calls and even recruiting new workers.
These customer communications are critical to the business, but can be difficult to handle properly, productively and profitably without the right systems in place. For small businesses and companies with teams of informal and non-traditional contact centers – such as sales, collections, marketing, human resources, recruiting and help desks – using complex contact center solutions for customer engagement can be daunting, especially when they lack internal expertise and resources.
The Times Are Changing
The cloud and the consumerization of the contact center is enabling a new approach to customer engagement that is especially empowering for teams and first-time contact center users. By offering ease of use, flexibility, instant changes and revolutionary economics, a new type of contact center solution is giving businesses and teams a new and intelligent way to maintain and manage open lines of communications with customers, partners and fellow employees.
8x8 ContactNow – The Intelligent and Easy-to-Use Contact Center Solution for Teams
8x8 ContactNow is a modern cloud contact center solution that is scalable, flexible and affordable. It offers simple pay-as-you-go and monthly subscription packages, and is quick and easy-to-use and allows you to get a contact center up and running in minutes. 8x8 ContactNow makes business communications more powerful and drives internal and external customer satisfaction to new levels through:
No-compromises inbound calling with intelligent skills-based routing
Powerful outbound campaign management and predictive outbound dialing
Drag-n-drop IVR configuration through a web-based interface
Easy administration and rich analytics
For example, 8x8 ContactNow enables fast-growing businesses to deploy their first feature-rich contact center in minutes. With 8x8 ContactNow, sales and collections teams are able to increase productivity with the use of a powerful automated outbound dialing. 8x8 ContactNow also allows help desk and support teams to make the most out of real-time analytics so users can spot trends, react to them quickly, and make changes instantly.
Now businesses, teams, departments and employees can take advantage of this flexible, new breed of contact center to revolutionize communications, boost productivity and improve the overall customer experience. Visit us at ICMI Contact Center Week at Booth #525 from May 22-25, 2017 in Orlando, Florida or at IQPC Call Center Week (CCW) from June 26-30, 2017 in Las Vegas, Nevada to learn more about and view a ContactNow product demo.