The March to True Globalization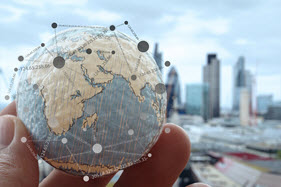 Globalization is hard, much harder than people think.  Doing it well is even harder.  A lot of companies use the word "global" freely or put it on their website without really understanding what it takes to be a truly global company.
Many companies stumble when it comes to globalization, and news stories point out "epic fails." But attempting to sell a product or open a store in another country only captures part of what it means to be "global."
Globalization, which author Jeffrey Garten maintains started 60,000 years ago when the first people walked out of Africa, is less about making a splash and more about making a splash-less dive into the water. It is something that, when done well, is hardly even noticed. It means that something made in China, with parts from a dozen countries, gets to your local store and you don't think about the path it took to get there. Or, a call made to customer service representative from California gets resolved by an agent in Manila. Today, one in three goods crosses national borders, McKinsey & Co. says. That global flow of goods, services, and finance will triple in the next decade, McKinsey adds.
Going global is more than just flipping a switch to expand into new locations and enter new markets. Companies need to figure out how and where to set up offices, hire local talent and procure new systems to ensure employees are productive and able to connect with customers and conduct business from day one. There are also local and state government barriers to contend with, such as labor and tax laws, and the barriers get exponentially more challenging for every new market entered.
And as organizations expand internationally, enabling a global communications system across multiple countries and locations is at the heart of this challenge, even more so if local expertise and knowledge are lacking at each location. Every country has a different set of regulatory and compliance issues to understand. For instance, in certain countries, it's not enough to just have a local phone number to establish a presence there. Companies may also be required to have a local business address and/or a letter of intent that indicates the line of business and how they intend to use the number.
Additionally, each country has complex regulatory issues when it comes to privacy, data transfer, data sovereignty, and encryption. Emergency services rules differ country by country as well. A local communications provider will have knowledge of each of these aforementioned areas, but only in their home country. So the more countries and markets entered, the more managing a company has to do with its multiple providers, bills—and not to mention— communications services.
Yet these challenges don't even address the technical concerns of delivering a consistent and high level of communications services and call quality across a global communications system stitched together by disparate providers. Customers and partners expect almost instantaneous responses—in their language—to messages, emails, live chat inquiries, and calls to customer service. Poor voice quality, dropped live chats, lost emails and faulty video conference calls can kill a deal, a partnership or create a peeved customer who, via social media, has a global audience.
As organizations race to open offices and deploy remote and mobile workers across the globe, they're increasingly demanding seamless and consistent experiences across offices, cities, and continents. They want to enable workers to easily communicate, share content via video, collaborate by smartphone and dial in locally—no matter where they are—all the while reducing IT maintenance and costs. This is where Enterprise Communications as a Service (ECaaS) comes into play. ECaaS brings all real-time communications and contact center services together into one integrated cloud platform, delivering continuous communications experiences from desktop to mobile. ECaaS replaces the siloed and hard to manage communications environments that big companies have long had.
Technology is also enabling a global flow of information, services, and e-commerce. Facebook says one in seven people now use WhatsApp. Software created in India or Romania lands in Silicon Valley by morning.
8x8 is part of this global economy in two ways. First, as a company, we continually expand our global footprint—now with three new data centers in Europe, Asia Pacific and Latin America, and new support centers in the Philippines and Romania. 
Second, our products enable a smoother, always-on flow of information, business communications and the goods and services that result from that communication. As the leading provider of ECaaS, our global growth better supports our customers. As they go global, they face a myriad of challenges, including language, cultural barriers and talent shortages, new tax codes and business regulations, as well as different data security and compliance rules. We make global communications, the life-blood of their business, easier for them.
Regus, the leading global workplace provider with offices in North America, Europe, and Asia-Pacific (spanning 120 countries), uses 8x8 to effectively and securely run its worldwide communications services. Regus selected 8x8 as their cloud communications partner of choice for its innovative technology, global presence, and robust delivery capabilities. Today, 8x8 supports over 25,000 seats, across 167 global Regus offices with immediate plans for further expansion.
Auto Europe, an international car rental service provider, chose 8x8 to manage its global office telephony and call centers across the US, Australia, and Germany, after experiencing reliability issues with its existing carriers. With 8x8, calls are dynamically routed over any number of top-tier carriers delivering seamless communications experiences.
Like Regus and Auto Europe, companies competing globally need to know that their communications provider has data centers around the globe, local number portability, the ability to provide local numbers, access to toll-free numbers, follow-the-sun customer support and deep expertise in security and data compliance.
Among other things, our latest investments add full localization capabilities for six additional languages. Our new Rio de Janeiro data center makes us one of the first global cloud communication providers with a presence in LATAM. That's no accident. Brazil has the largest computing services market in Latin America, a recent government report indicates.
All our investments in globalization are dedicated to supporting our customers' global growth objectives. We look forward to being by their side, as they achieve continued global success. Here's to a truly global economy and all that comes with it!