Get Ready for the Great Contact Center Metamorphosis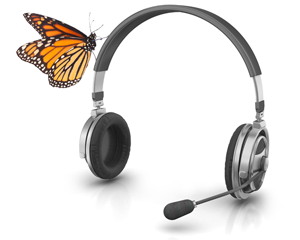 What's the first thing you think of when someone says "call center"? A lot of people in a room—maybe offshore, maybe a "boiler-room" operation—lined up in a phone bank, talking into phones or headsets?
That's a vision that may soon become obsolete, as cloud-based communication systems transform the nature of customer interaction. Someday soon—maybe just a few years away—"call centers" might have very little to do with either telephones or centers.
The fact is that virtual call centers—powered by Voice over Internet Protocol (VoIP) and delivered over the cloud—are evolving, undergoing a metamorphosis into more of a general customer communication vehicle. Delivered inexpensively via the Internet, they'll bypass traditional "phone company" communications channels, big boxes in the closet, and the per-call charges that go with them.
For small and medium businesses, this means that there's a new solution that lets them energize their Web presence and contact their customers in ways they never could before. Large contact center operations used to be the exclusive domain of large enterprises, because the phone trunks, equipment installed on premise, and custom programming were things that only large enterprises could afford.
Boosting the Value of Web-browsing Customers and Prospects
Subscribers to 8x8's Virtual Contact Center service—a VoIP-based, cloud-delivered solution that requires no equipment or infrastructure—are greatly increasing the value of their customer contacts. They are also expanding beyond traditional voice-based support and managing their customer interactions using a plethora of multimedia and web interactions.
For instance, a hospitality business uses 8x8 Virtual Contact Center to check to see if a sales agent is available. If so, customers browsing the hospitality site see a button that offers to have a representative call immediately. If the customer agrees, the rep calls. Company representatives say that the contact conversion rate has jumped from 5 to 25 percent for customers who agree to the callback.
We see a future where hosted VoIP virtual contact centers will increasingly tie together Web interactions, live voice communications, email and chat channels. This will help small and medium businesses manage communications with prospects and customers more effectively, based on a cost scale that is appropriate to the size of the business. These businesses will only pay for the actual contact center scale that they need, and there will be no real need for people in sales or support to be in the same room or even in the same office.
And this customer communication traffic will be carried over VoIP and managed through a combination of unified communications and CRM software, making it much more affordable for small business. After all, if your call center software is in the cloud, and your CRM provider is in the cloud, why shouldn't they be able to talk to each other, so that you can get the most out of both investments?
All of this means that businesses can cultivate closer, more targeted relationships with their customers through Internet channels. We can help companies manage those interactions, tie in with CRM systems, and boost sales—not erode profitability with overly expensive toll charges.
Of course, whenever something new comes along, people start out trying to use it the same way they used the old technology. But the true measure of an innovation is how many new, better, more profitable tricks it can handle that the old stuff couldn't. At that point, it often morphs into something far more powerful and transformative.
In our hospitality example, an old-style phone bank with a lot of people making and taking calls could never detect customer interest based on Web browsing. They also couldn't send a quiet chat message asking if the customer has questions or wants to be called, figure out literally who in the world is available to take the call—so the call center could even be staffed in moving shifts around the world—and help the agent close the sale or handle a problem.
Seen through that lens, talking about "virtual call centers" makes about as much sense as referring to a car as a "virtual horse and buggy." As soon as businesses quit thinking in those terms, they'll understand how many races they can win that they never could have even entered before..