The 4 Things This Year's Internet Trends Report Gets Wrong About Retail
This post is part of a series focused on the retail industry highlighting emerging trends affecting consumer and retailer behavior.
😱😱
Ok, folks – I'm going to do it. I'm going to have to disagree with some, just some, of the information in Mary Meeker's "2018 Internet Trends" report when it comes to retail and eCommerce. (Collective gasp)  
Now before you grab your torches and pitchforks, of the 294* pages of this year's 2018 Internet Trends report, I am in awe of the majority of them. Like an oracle of technology trends, this must-read report has proved prescient again and again, often against mainstream consensus. But where I fundamentally take issue with the report is the perception it creates that retail is this binary world of physical versus eCommerce. From the data I've seen, retailers on both the low end and high end of the market, are succeeding by not only blending those two channels but also making investments in customer experience that eliminate the need to differentiate. (It's called "phygital", and no, I didn't just make it up.)
So here are the four key areas where I must respectfully disagree with this year's sacred technology tome and the reasons why:
1. Legitimate Retail Subcategories Removed
The first disagreement might be semantics, but some perfectly legitimate retail subcategories (e.g. food services, automotive, gas stations, etc.) are excluded from the analysis, rendering the share of eCommerce at what I believe to be an exaggerated 13% of all retail sales. And, while buying gas online may sound like a risky and most likely illegal proposition, automotive and food services are by no means only part of the physical world, as evidenced by digital-savvy players like Blue Apron, CarMax, Carvana, Domino's, Fresh Direct, and RockAuto to name a few. The latest Department of Commerce, US Census Bureau figures from Q1 of 2018 put the share of eCommerce at 9.4% when these groups were included. Without question, eCommerce has been steadily growing, but the numbers also show that despite the fact that the internet has revolutionized retail, we're still living in a physical world.
While this difference doesn't seem that dramatic when you remove these categories and overlay the two sets of data, the Internet Trend report growth numbers feed into the "retail apocalypse" message; that eCommerce is on this unstoppable growth trajectory, going from around 5% in 2007 to nearly 15% today. Using the Department of Commerce, US Census Bureau data, inclusive of all retail subcategories, there's a much steadier increase, which speaks to the integration of digital shopping into the consumer experience over time, with a growth from just under 4% in 2007 to just under 10% in 2018. It's also the difference between eCommerce on track to hit $1 trillion in the next two years or about half that!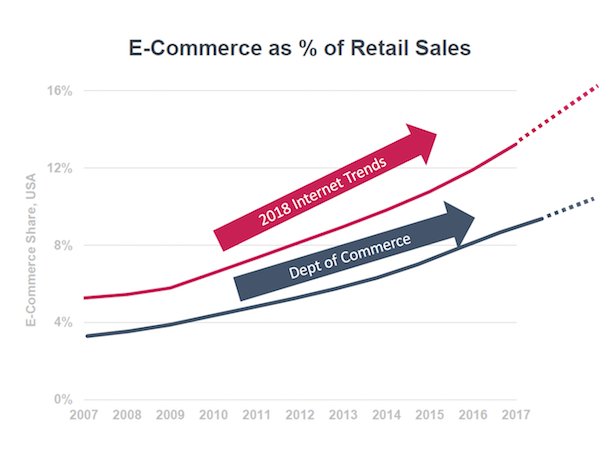 2. The Trillion Dollar Slide
This leads to my second point of disagreement: the scale of physical retail versus eCommerce seems way off. Looking at the same US Census data across all retail categories, inclusive of all the sectors the report removes, like auto parts, gas stations, and food services, in 2017 retail accounts for over $5 trillion in sales. Yet the vertical axis in the physical retail growth chart shows a scale that is 100 times less than eCommerce!
Even when you go back to the same US Census data and pull out automotive and food services, the 2017 number is more than $3 trillion. So… maybe it's just a typo (i.e. the B's should be T's), maybe it's fake news (no shortage of that going around), or maybe I'm missing something, but I can't imagine a world where this is remotely accurate. And with the amount of press and emphasis that we all place on this report, it compounds the misconception that eCommerce is displacing retail in these apocalyptic times.
3. Retail is to eCommerce, as Apple is to Apples
Which leads to disagreement number three – comparing physical retail growth rates against eCommerce growth rates aren't really apples to apples, especially when many key sectors are pulled out. In fact, if you do an apple to "Apple" comparison, the report shows physical retail is actually delivering positive growth of just under 3% while smartphone manufacturers, who no almost no one claim are headed for any kind of apocalypse, have experienced zero growth. Additionally, if you include those key retail sectors, the year-over-year growth rate for retail overall is actually just under 5%, which is quite impressive given the overall US GDP growth rate for 2018 is forecasted to be 2.9%.
Another key piece of evidence I would submit here is the latest retail jobs report from the Bureau of Labor Statistics, that shows an increase in retail jobs, with an addition 31,000 added in May and an average of 22,000 per month so far this year. This is only surpassed by education and health services industries and tied for second place with professional and business services. Even more interesting are the specific retail subsectors not experiencing the growth, namely nonstore retailers (i.e., eCommerce?). Granted, one month doesn't make a trend, but it is important to understand how retailers are staffing in order to understand how they perceive what's important for growth: people.
4. The Line Between eCommerce and Physical Retail has Blurred (for the Better)
And that leads me to my final point of disagreement: retailers have moved beyond the distinction of physical and eCommerce. If you look at companies like Best Buy, with a sizable footprint, but also heavily investing in customer experience across all channels, they are leveraging their network of stores to complete purchases and fulfill orders, as well as provide services that make their brand central to acquiring and understanding new technology. This strategy has recently led to increased revenue from a more streamlined customer experience and better utilization of physical inventory and locations.
However, while you may think of Best Buy as a physical retailer, the way in which goods are purchased changes how they are accounted for in this physical vs. eCommerce representation. For example, products bought online and picked up in store (BOPIS, for those in the retail industry or just acronym aficionados) would count toward the eCommerce figures, despite the fact that it's the physical store that is central to fulfilling the customer experience, including getting that live human expertise and even scheduling service during pick up. And since this is part of the strategy retailers are using to maintain relevance, combining the ease of online purchasing with the immediate fulfillment of a local store, forcing those transactions to sit in one place when they clearly span both worlds misrepresents what is driving these results.
eCommerce: Ingredient, Not a Substitute
Retail success from blending digital and physical is a common thread shown in recent earnings reports from other retailers as well (e.g. Dicks Sporting Goods, DSW), but as you look across their statements, eCommerce isn't broken out as an "other"; it's an equal part of the strategy. Retailers are well aware of the need to infuse digital into their physical experiences as well as the fact that their stores, once seen as unnecessary overhead ready to be crushed by the tsunami of eCommerce, are now a way to differentiate with digital-only retailers, with exclusive products, in-store expertise, and the immediacy that even two-day shipping can't provide.
Which brings me back to my original point: savvy retailers are not being replaced by eCommerce, but instead infusing it into how they serve customers. This point is emphasized by Gartner. They have started promoting the idea of replacing "multichannel" and "omnichannel" with "unified retail experience", since the focus is becoming less about the individual applications and technologies and more about how retailers use the collective insight, context, and design elements to anticipate customer needs, understand their preferences, and create an ongoing relationship across their entire brand. Essentially, the experience is everything.
However, a key part of getting that personalized experience right is customer insight, which has been built into individual digital technologies but is more complex across other channels. Nevertheless, it's important to make sure to look for ways to capitalize on the available data you have as consumers use all available channels to engage with you and then use it to inform every interaction you have with the customer. Without maintaining the context of conversations across the phone, online chat, email, and social, consumers  Quoting last year's Internet Trends report, "82% of customers stop doing business with a company after a bad experience".
Beyond the essential, but harder to quantify the value of experience, there are very tangible benefits of creating a holistic strategy that connects these various interaction streams. According to a recent Aberdeen survey, firms that combined their customer service and contact center with their business communications technologies saw a three-fold improvement in customer satisfaction and a 2.4 times improvement in revenue growth, in addition to a handful of other improvements including customer lifetime value, employee productivity, and customer retention. Whether allowing them the ability to more quickly address customer inquiries through greater context and access to expertise, it's not the technology that's driving these results, but how organizations are using it to prioritize a more customer-centric experience, no matter where that interaction takes place
Just Call It Business
While this report is, by nature of its name, focused on "internet" trends, perhaps the delineation of "internet" is becoming an unnecessary distinction as well. Much like the modern retail consumer experience, the internet has become so deeply ingrained that we're not even conscious of where it begins and ends. Consumers just shop wherever they want using the medium that's most convenient with the retailer that best fits their needs. As Forrester points out, at some point in the near future, they will stop calling it digital business and just call it business.
Which begs the question, should next year's report just be "2019 Trends"? Or am I already on thin ice?
*And while I encourage you to read the report if 294 pages of analysis scare you, check out the abbreviated Code Conference presentation video from Meeker herself below.