Take Your Small Business Phone System from Obstacle to Enabler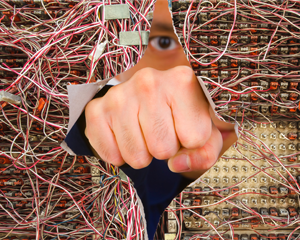 As economic conditions bounce back, lots of businesses are finding their phone systems stand between them and the post-recession growth they'd counted on.
Many of them are turning to hosted VoIP (Voice over Internet Protocol) for their small business phone systems, to help make up for time and profitability lost in the recent recession. In the process, they're finding they can expand far beyond previous phone limitations.
PBXs and Traditional Carriers: Growth-Busters
Now that these companies are starting to add new employees, many are finding it's hard to get fast, economical business phone service to support new team members.
For example, Jason Phillips says his firm, Capital Results, had trouble setting new employees up on its old small business phone system. "Three years ago, we bought a new system from a major telephone and wireless carrier," he says. "We added a few employees and as a result couldn't get the phones set up."
"VoIP business phone service has given us a smooth transition from our traditional landline service and offered us many enhanced features," says Phillips.
VoIP Helps Businesses Kick Co-Dependents to the Curb
Many who switch to a VoIP small business phone system say they hated being dependent on phone companies or consultants every time they want to make changes to their old business phone system.
"We were tired of these complex, costly phone systems where we frequently had to contact the phone company to make any adjustments. We wanted features we could easily manage ourselves," says Spencer Zitzman, LDS Counseling Manager. "The other issue was that every time our old phone system had problems, we had to pay a significant amount of money to have the company send out a rep to fix the phones."
Businesses Use VoIP to Get Higher Reliability with New Features
A byproduct of the switch has been improved reliability, many customers find. "Since switching to hosted VoIP, we regained our independence and have also enjoyed at least two occasions when even our Internet went down and we were able to simply switch on the 8x8 app on our mobile phones and not miss a call," says Zitzman.
Sara Lobdell, VP of Operations for TKO Industrial Coatings, reports seeing a similar transformation at a company where she used to work. "When my previous company ditched our old PBX for VoIP, we finally had full control over our system, instead of needing to call someone to do something as simple as adding or deleting a voicemail box! And we added a ton of new features: voicemail-to-email conversion, call forwarding, direct-dial numbers, unlimited long distance, the ability to work remotely, and more.
21st Century VoIP Features 'Change the Way We Do Business'
Some business people only realize how much new VoIP features will enhance their company's growth after they've made the change for other reasons. "We used to have phone service from our local provider," says GayAnna Weddle, office manager at Security Molding. "We were paying two-and-a-half times what we pay with 8x8, and our phone service was more or less just a telephone line."
"We now have caller ID and all of our lines ring out in our shop, which we could not do before. We also like that we can get phone calls even when away from the office or when the power is out, as it was this last winter," she says.
Others know from the start that what they need to grow is beyond their reach in a traditional PBX and are delighted at the prospect of getting new capabilities and saving money.
"We needed extensions, voicemail, capability to transfer calls, etc. We realized we would need a very expensive PBX system," says Ryan Wallace of Contractor Wholesale. Now that he's using VoIP business phone service, "I couldn't be happier. The system is virtually plug-and-play, in that anyone can set this system up."
VoIP Small Business Phone Systems Bust Through Obstacles
Once businesses blast through the limitations of traditional phone choices, they often keep growing and expanding. Typical is the story of Vellano Brothers.
"We have 17 branch locations," says Vellano Brothers' Jeff Folino. "When we started using hosted VoIP, it was primarily so that we could make calls easier to handle between two of our locations. The fact that we were able to add this ability and save money at the same time was a bonus."
The initial conversion went so well that the company is continuing to switch its offices over to VoIP. "This was in December of 2010, and our experience has been so positive that we have migrated 10 of our locations so far, whenever their existing telecommunication contracts come up for renewal," says Folino. "In addition, we have opened two new companies that started with hosted VoIP as their phone system from day one. The flexibility in call handling through the use of Ring Groups and Auto Attendants makes it a breeze," he explains.
How about your small business? What could you do with a VoIP small business phone system that flipped your business phone service from being an obstacle to an enabler, from a hindrance to a helper, actively promoting your organization's growth?
Learn more at www.8x8.com.