Sometimes, Lightning DOES Strike Twice
Whoever says lightning never strikes twice, never had an old-style PBX or phone system. Last summer, we were surprised to realize that many of our new customers told tales of making do with ancient technology until it was literally taken out by lightning or other disasters.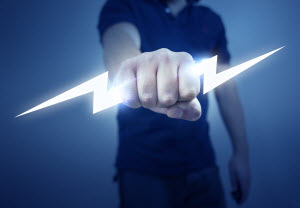 We had initially thought that it was a fluke, but we're still getting really interesting stories about fried phone systems.
What's really surprising, though, is not that lightning strikes so many phone systems. What's stunning is how long some companies limp along with old systems that cost them more in time, trouble and opportunity than if they had bought a new system. Plus, as many people find out, post-act-of-God, is that a new cloud system not only gets rid of maintenance costs, but it helps workers be more productive and bring in new revenue.
Lightning Takes Out Voicemail at Champlain Oil
"Our phone system was outdated and it took a thunder storm with massive lightning to take out our ancient voice mail system this summer," says Scott Willard, office manager at Champlain Oil Company.
Once the old system had given up the ghost, he says, the company had to make many decisions about what kind of system to get.
"We switched to Internet phone service for a number of reasons. Our first goal was to cut costs and lower our monthly phone bill. The company was tired of paying all these outrageous bills for multiple phone lines that are lacking the technology and features that are in the market today," says Willard.
"Our communications partner  introduced us to 8x8 and helped us implement a cloud-based solution which would allow our company to stay connected, with advanced technology," he says.
"Our favorite features are the mobile phone application and having voice mail messages converted to emails. The system is cost effective and has improved our daily operations tremendously."
Stone Knives and Bearskins
And the winner in the heroic-efforts-to-keep-petrified-technology-alive has got to be Dan Tomlinson, IT manager at MEECO. As Star Trek's Spock might have said, he was holding his company's old phone system together "with stone knives and bearskins."
"At my current position, we had one of the oldest mid-range systems available and an even older voice system. Both needed to be backed up to floppy disk!"
It gets better—or worse, depending on your perspective.
"At one point the antiquated PC that ran the voice system died and I needed to track down a copy of OS/2 to rebuild it," he says.
OS/2! That operating system would be old enough to drink and vote in all 50 states.
Tomlinson says that the best part of switching to 8x8 is having "no old machines that require maintenance or backups."
"We also have the peace of mind in knowing that even if we had a major power outage, our phones will still be answered and important calls will not be lost. I love being able to modify the auto attendant from home during inclement weather and having scheduled holiday greetings," he says. "I can't imagine ever having to go back to an internal switch and voice system."
So maybe you owe it to your company and yourself to send that old phone system to that Great Switchboard in the Sky. It's probably better that way.
Just ask Roxanne Wilson, a manager at Palm Court in Salinas.
"It was a blessing in disguise, when our Lucent Technology Phone system crashed," she says. "We replaced it with 8x8, and it has saved us so much."
So if you're tired of fussing with a phone system that really should have met its maker long ago, click here.