5 Social Media Best Practices for Small Business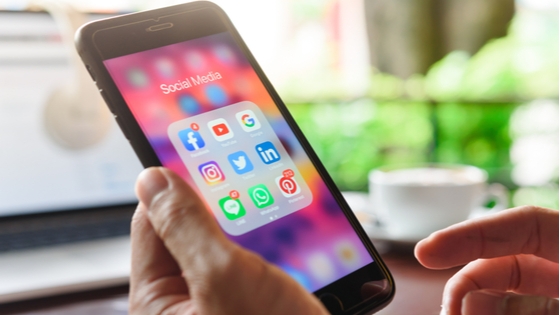 Think social media is only for big brands? Think again. According to Twitter, 93% of people plan to buy something from a small or medium-sized business they follow on the platform. That's the power of social media—it's the modern-day equivalent of patronizing your favorite neighborhood business because you know and trust the people who work there.
While it's true you can probably get by without thousands of social media followers, you do your business a disservice to ignore social media altogether. 3.5 billion people are on social networks, according to We Are Social and Hootsuite's Global Digital Report 2019. That's 45% of the world's population. As social media has grown, so has its usage across generations: eMarketer data reveals that in the U.S., 90% of millennials, 78% of Gen Xers and nearly half of all Baby Boomers use social media.
For business-to-consumer (B2C) companies, social media is one of the best tools they can use to build trust and affinity with customers. They do this by becoming a reliable source of valuable and engaging content. On the flip side, consumers have increasingly turned to social media for customer service and support, including airing out grievances. According to Sprout Social, 46% of consumers have used social media to "call out" or complain about a business, while 81% of consumers believe social media has increased overall business accountability.
Social media isn't just for B2C companies. It can also be a powerful tool for business-to-business (B2B) companies to build their reputation and enhance their position as a thought leader. Any type of business stands to benefit from being on social media. Read on for five social media best practices that will help you gain more likes, followers and loyal customers.
1. Set goals
The first step on your journey to social media success is to take stock of your current efforts and identify what's working and what's not. You can use this information to create a baseline with which to compare your social media activities going forward. If you don't have social media accounts set up for your business yet, then use your first active month as your baseline.
Next, you'll want to establish some goals that will serve as your social media guideposts. Try to be as realistic and specific as you can in both what you are trying to achieve and when you want to achieve it. Also, tie your goals to a business objective. For example, instead of setting a generic goal of getting more followers, go a step further and set out to grow your audience by a specific amount within a certain timeframe. Instead of "get more likes on my posts," aim for a particular click-through rate by the end of the year. You get the idea.
To help keep your social media efforts on track, really think about which social networks your business should be on. You don't have to be on every single one, or at least not to start. Depending on your goals, you may only need one or two. Facebook is great for local marketing, while Instagram can help you reach a younger demographic. If you are primarily a B2B company and want to raise awareness among professionals in your industry and beyond, consider creating a LinkedIn page for your business. Determine where your target audience is most active and focus your efforts there. As you solidify your presence on these networks, you can evaluate whether it makes sense to expand to others.
2. Share authentic content
Successful social media strategies are less about self-promotion and more about sharing your story, getting in front of new customers and building relationships. Here's a helpful rule of thumb from Hootsuite: 80% of your content should inform, educate or entertain your audience, while the remaining 20% should promote your business or products.
Think about your own experience. When was the last time you bought something from a business that was blatantly trying to sell it to you? Perhaps you did make the purchase, but what feeling were you left with? Did you ever go back to that business?
Today's consumers are savvier than ever. They value authentic content that speaks to them on a human level. Even if you are a B2B company, it's humans who are ultimately making the decision to purchase your product or service. If you can connect with them on an emotional level (without being overly-sentimental or pandering, of course), then you stand to win a fan who may one day become a paying customer.
There's as much value, if not more, in sharing a photo of your dog napping under your desk while you work along with a funny caption or tip for working from home than there is in sharing a photo of your product with a click-to-buy button. Very few of your posts should be a hard sell. The more you can humanize your business through your content, the better.
3. Be visual
There's a reason why Instagram is the third biggest social media platform after Facebook and YouTube. Humans crave visual stimulation, and compelling, relevant imagery helps to make your content more attractive and engaging. Let's be real: text-only posts simply don't get noticed by most social media users. According to a study by Skyward, content with relevant imagery generates 94% more views than content without visuals.
There are more reasons to include visuals with your social media content. Imagery can convey a message faster than text alone. It can make your posts more memorable and even stimulate an emotional response from the viewer. Hopefully, you're getting the picture that relevant visuals are key to getting your content noticed on social platforms.
Thankfully, modern technology makes it easy to capture relatively high-quality photos and videos and post them directly to social networks. All you need is your cell phone and, if you're really savvy, editing software like Photoshop (or you can opt for Instagram's custom filters). Then, it's all you! Experiment with different kinds of photos and videos across platforms and see what resonates with your audience.
A word of caution: while visuals are essential to creating engaging posts, don't neglect the text that goes with them. It's just as easy to turn away viewers with a confusing or irrelevant caption as it is to draw them in with a stunning photo. It may take some time to perfect the one-two combo of visuals and text, but with practice, you'll get there.
4. Create a posting schedule
You've set your goals and are raring to go with visually compelling, authentic content. Here's the rub: without establishing a regular posting cadence, all of your hard work will be for naught.
Well, perhaps not for naught, but you likely won't see the results you could achieve by creating a social media calendar. By establishing and sticking to a schedule, you set yourself up for success. While it may take some legwork to get your calendar up and running, you'll save time and headaches in the long run because you'll know what to post and when. This is especially helpful for time-crunched small business owners who may struggle to prioritize social media when they have other pressing items on their plate.
It's important to post consistently because it helps to build trust with your audience. They can count on you to be a dependable source of valuable, engaging content, and you get the benefit of having more touch points with your audience. It's a win-win.
Hashtags and other social media trends can help you establish a framework for your calendar. Here's a basic posting schedule for you to consider using some of the most popular hashtags:
Monday: Post content for #MondayMotivation to inspire your audience at the start of their workweek
Tuesday: Post content for #TipTuesday by offering a tip related to your product, service or industry
Wednesday: Post content for #HumpDay or #WellnessWednesday—something to help your audience power through the rest of their week
Thursday: Post content for #ThrowbackThursday. While a bit tricky for businesses, #TBT content should evoke feelings of nostalgia, humor or interest from your audience while also being relevant to your business. Think a photo taken when you first opened your doors or of you with a totally retro hairdo
Friday: Post content for #FridayFunday or #FollowFriday. The latter is a post in which you @ mention or feature another business or people whom your audience may want to follow
These are just a few examples of the kinds of content you can post throughout the week. You can even expand into #SocialSaturday and #SundayFunday if you're feeling ambitious. At the same time you're playing around with hashtag-themed days, dedicate a day or two to sharing content from other social media users. You can also set aside a day to repost older or evergreen content, such as a popular blog post you've written. Perhaps you've got an upcoming promotion that you schedule posts for weeks in advance. In no time at all, your social media calendar will be full.
You may consider using a social media management software solution such as Hootsuite or Buffer, which allow you to schedule posts and review content performance, among other metrics. Check out our Hootsuite vs. Buffer guide for small businesses to compare the platforms plus learn about some alternatives.

5. Engage with your audience
A social media expert once told me that many small businesses make the mistake of expecting immediate gratification on social media. These businesses are usually disappointed when their follower count doesn't skyrocket overnight or they don't immediately produce more sales. They become discouraged, stop posting and watch whatever social media gains they have made wither away.
Instead, this expert advised that small businesses view social media as a long-term relationship, one in which they are building a story and a presence. As I've said throughout this blog, social media for businesses is about establishing trust and affinity with your audience. Your primary focus should be on fostering a sense of community. Eventually, your loyal followers may convert into customers.
One of the best ways you can nurture your online community is to engage with its members. You can do this by joining a chat on
Twitter, posting questions on LinkedIn or replying to comments on your Facebook or Instagram profile. Think of it this way: if someone reaches out to your business or there is an online conversation you can contribute relevant commentary to, then it's an opportunity to interact and engage. When you do respond, keep in mind that you are representing yourself and your business, so be empathetic, respectful and professional. One misguided comment can be detrimental.
There is no secret formula to engaging with your audience. It's essentially about becoming an active and responsive social media participant. As with creating a posting schedule, consistently participating in the conversation helps to establish you as a reliable source of valuable information.
Build Connections on Social Media and Beyond
Now you're armed with some social media best practices that you can apply to your business. Remember to have fun with your posts, be human and stay true to your brand and your goals. It may take some work, but the payoff of a loyal, thriving online community is worth the effort. If you're interested in learning more tips that can help your business unleash its full potential, download the free eBook, "Within Reach: 5 Small Steps to Achieve Your Big Goals."
As you build your social media presence, consider the communications tools you use to connect with customers. If you use your personal cell phone number to handle business calls, you could be missing valuable moments of engagement. Check out 8x8 Express, the complete small business phone system with unlimited calling, messaging and video conferencing that's just $12/month. Get a free 30-day trial today.