SD-WAN with Cloud-Delivered Communications: A Match Made in Heaven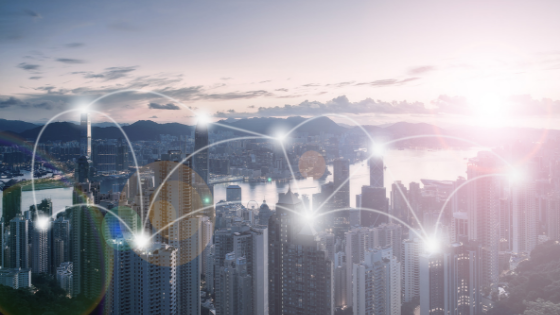 The benefits of the cloud are well known and hardly need to be debated on: access, agility, elasticity, lower administration cost and even better security, they are just given and supporting the digital transformations. This blog post is for someone who is looking to understand the dynamics between SaaS applications and SD-WAN and how these two concepts, though independent, can complement each other to offer a better cloud-delivered experience.
With that context, let's look at the current stage where organizations, big or small, are using or planning more and more cloud-delivered applications to support their business operations. There are applications out there that support everything you need to run your business: CRM, ERP, Helpdesk, productivity and much more. Cloud-based (SaaS-based) communications is no different. As per Gartner, cloud telephony and messaging alone will reach $24 billion in the year 2023 from $13.5 billion in 2018. From a study done by BetterCloud, a SaaS operations management and security platform provider, organizations use an average of 16 business applications delivered from the cloud. With demand, as well as supply for SaaS applications, don't seem to slow down in the near future, the onus of managing multiple applications and delivering all with the optimal user experience is mounting for the IT and network admins like never before. More often than not, SaaS applications are delivered via the public Internet, our very own broadband connection, an accessible and easy-to-use medium to transport applications from cloud to your end device compared to expensive, fixed but dedicated MPLS connection.

Multiple SaaS applications vying for the same network
Sixteen cloud applications vying for access across the network is like morning traffic with everyone trying to get through a fixed number of lanes at the same time. Let's look at how the lanes or underlying WAN is positioned with the cloud. WAN stands for Wide Area Network, a network that exists over a large-scale geographical area, basically connecting data centers hosting the applications to your locations.
You might be wondering why the user needs to care about how cloud applications are delivered. Should the cloud service provider care about this instead? That's a very reasonable concern since by its definition, cloud computing is a modern IT delivery model. The cloud service provider certainly plays a key role in making sure the application is well localized and routed so that the end user does not experience latencies and degraded performance. For instance, 8x8 employes multiple features such as our patented geo-routing along with FEC (forward error correction) and adaptive jitter buffers upon arrival to ensure better user experience. However, at the user end, there are multiple business applications from different providers that travel the same network, affecting the performance including that of cloud-based communication, which normally is considered mission-critical to any business and is sensitive to latency and jitters. It's like trying to race a Lamborghini Aventador in a busy downtown, it can't get 0-60 mph in 2.3 seconds. A good network is pivotal for a good cloud experience. I'm sure you do not mind a 3 second delay in emails, or delays in other not-so-latency-sensitive applications but you probably are not willing to do so when it comes to real-time audio and video communications. 

Why SD-WAN makes sense here
Keeping the traffic analogy in mind, the highway or end-to-end underlying network connectivity, in this case, plays an equally important role in enhancing the performance. If that's the case, you may need a better network with optimized bandwidth allocated to each application, critical or not-so critical. Based on performance, ease to manage and cost, SD-WAN tends to be the candidate of choice. SD-WAN stands for Software-defined WAN. In the simplest terms, SD-WAN provides one point to configure and manage your WAN along with a single pane of glass to visualize its performance. One of the key drivers of increasing traction of SD-WAN is that it is agnostic to the underlying physical WAN connections. It forms one logical connection visible to the traffic by aggregating the physical links. What SD-WAN does is it enables the customers to prioritize traffic based on their business intent. For example, admins can prioritize mission-critical applications such as audio and video conferencing over emails for better QoS (Quality of Service). Additionally, SD-WAN provides real-time visibility into the network to monitor and manage the traffic dynamically without demanding additional bandwidth. There are other features that SD-WAN offers such as security. But again, SD-WAN and cloud complement each other in optimizing user experience over the existing network.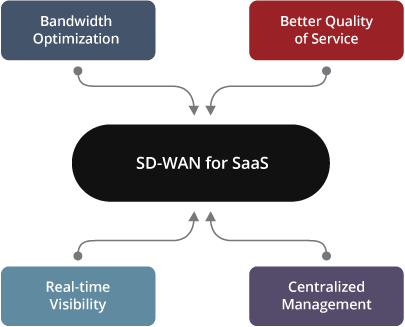 SD-WAN and SaaS: a perfect match
SD-WAN can help
There are a plethora of vendors offering SD-WAN capabilities, categorized as pure-play or add-ons. The paradox of choice multiplies with business intent and priorities including cost, deployment, privacy and visibility. Though SD-WAN simplifies the WAN to a great extent, understanding, configuring and managing SD-WAN in-house is not feasible for all organizations, specifically ones with limited resources.
There is one 'simpler' approach to capitalize on the benefits of SD-WAN minus the entailing complexities, i.e, evaluate a SaaS provider that happens to provide SD-WAN capabilities too, basically one who manages their core services as well as the underlying network optimization. Let's keep the scope of these SaaS providers to communications and collaboration only. Based on the growing demands of cloud services, specifically SaaS delivery model, followed by the need for network optimization, SaaS providers have different offerings that address the different requirements for SD-WAN. There are 3 approaches common in the industry:
Reference partner: This is the easiest partnership to find, providing full-fledged SD-WAN offerings that can spread beyond a few mission-critical applications. However here is the caveat, the customer needs to deal with two vendors, two support teams and two billings.
Single point of contact for a third party SD-WAN solution: This is the most convenient one where the communications provider integrates, tests and deploys the two solutions and manages it by itself for communications offerings. The benefits of this one include a single point of contact, one support team and generally one bill. Please note that this option addresses a very specific requirement, i.e, best communications experience without evaluating the other traffic types.
Develop in-house: This is the most attractive option, where the cloud service provider, in this case, communications, has built SD-WAN by itself along with the applications. Based on the offerings on both sides, the core communications offerings as well as the network optimization, you can evaluate the combination of both SD-WAN and the core offerings to be transported over it.
Whether you have multiple sites to support your distributed customer base or your workforce, the need for enhanced communication and collaboration experience is more pivotal than ever before. Cloud-delivered services make it much easier to grow and serve your end-users on demand. Don't let your network disappoint you. Based on your company's objective, whether it's the best-in-class performance for mission-critical communications or a full-fledged SD-WAN to take care of all these services, cloud-based or not, you can combine those with your use cases so that you can deliver the best communications experience for both your team and your customers.
To learn more about how to optimize your network for SaaS applications including voice, video, chat and contact center communications, contact an 8x8 specialist.