Schools: E-Rate Forms and Deadlines Are Changing—Don't Miss Out!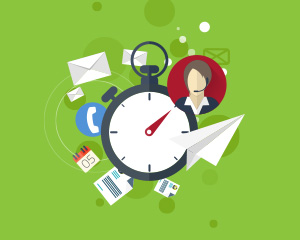 As schools everywhere start breaking for winter recess, educational officials know grades will soon be due. But far fewer realize that the clock is ticking on turning in their E-Rate application forms, and missing the deadline could mean missing out on telecommunications-related savings.
Schools Turn to VoIP for Modernization, Savings and E-Rate Subsidies
Not only will the events of the next few weeks determine many students' final grades. They'll also determine how much the federal government will pay toward modernizing the telecommunications of many schools and libraries, as a vote on FCC Chairman Tom Wheeler's proposal to increase funding of the government's E-Rate telecommunications subsidy program comes up on December 11.
VoIP is a Popular E-Rate Choice
And as officials argue over funding levels, one thing is clear: Voice over IP (VoIP) is becoming a popular choice for schools everywhere, largely due to its no-maintenance cloud delivery and the huge cost savings it offers over aging PBXs.
E-Rate has been widely acknowledged to be a good deal for those who qualify, and many of those pursuing E-Rate funding have chosen cloud communications over cable or traditional PBXs. But the deadline to apply changes from year to year, and many of the forms used to apply for subsidies have also changed.
8x8 is a long-time E-Rate certified provider, and offers these resources to help administrators seeking E-Rate funding.
The Most Underreported E-Rate Secret
But what many administrators often don't realize is that VoIP is a good deal even without E-Rate subsidies. Lots of schools realize immediate savings, largely because they no longer have to pay through the nose to fix ailing PBX hardware. With VoIP, the provider handles the maintenance of the service.
Typical is the experience of Contra Costa Christian Schools in California.
"We worked with 8x8 to create a solution that purchased all phones and installed the totally new IP phone solution for less money than repairs were estimated to be," says Darren Price, head of the schools. "We also created a system that costs us less money on a monthly basis."
VoIP is a Cost-saver Even Without E-Rate Savings
And that, says Price, was a good deal even before any E-rate funds his school might get.
"The 8x8 system gives us a lot of control over each extension and substantial data on usage that we can use to adjust our system and save our organization money," he says.
Despite the wide popularity of both VoIP and E-Rate, the proposed funding increase is anything but certain. Critics say that even the average $6 per household per year increase in telecommunications fees is a tax increase they wish to resist.
The following is a list of known upcoming E-Rate changes, deadlines and resources:
To learn more about 8x8 solutions for education, click here.