Say Hello to Gen Z with the Right Communication Tools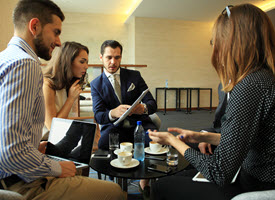 Findings from a survey commissioned by 8x8 last winter found that smartphones are quickly becoming the hub of communication for all generations. Gen Z is the first generation born in a digital age and in the era of smartphones; we don't know what it's like not to have a world of information and communication at our fingertips.
In fact, twice as many Gen Z respondents took our survey on a smartphone than their millennial or Gen X counterparts. Therefore, tools like new mobile apps, bots and supporting IoT devices will become more prevalent among the workforce. Furthermore, Gen Z's familiarity with social media sites like Instagram and Twitter means corporations need to incorporate emerging social and digital technologies into the workplace.
Millennials tend to be demanding from a work and technology perspective, whereas Gen Z is more pragmatic and frugal having been raised during an economic recession. As Gen Z enters the workforce, we will be more budget conscious and use technology to make work more streamlined and efficient. Gen Z will push enterprise communications to evolve quickly, but we will also make it more efficient, more collaborative, more cost-effective and less reliant on IT to solve problems.
As every new generation enters the workforce, it brings with it some defining characteristics – both positive and challenging – that will change the way businesses operate. Will they be prepared to power the workplace of the future? Millennials demanded new technologies to do their work, which pushed the workplace to move forward. I, along with the rest of Gen Z, value effective communication and collaboration, and will continue to innovate as our professional careers evolve. We will try to bring more balance to create an effective workplace, and that's good news for enterprise communications and collaboration.