Saving Money With Small Business Tax Deductions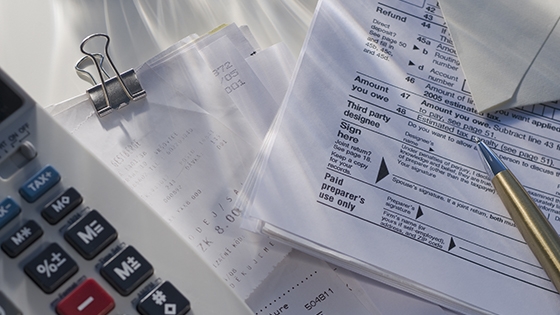 Small businesses are an essential part of the economy. Federal and state governments recognize their benefits by offering tax deductions. As a business owner, these tax deductions are essential to your bottom line. They are critical cost-saving tools no matter your company size but are especially useful for new and growing companies.
Small business taxes are different from employee taxes. Employers remove taxes in each employee paycheck. Business owners must take an active approach. That means paying taxes throughout the year. Larger companies may have more complex requirements. But the rules apply for large corporations and sole proprietors alike.
Keeping up with these payments is stressful for resource-strapped companies. But tax time can become an opportunity to save and reinvest rather than owe. In this guide, we explain what a small business tax deduction is. We also share the most common and effective deductions for small businesses.
What Is a Tax Deduction?
Nearly all types of companies file annual income tax returns. However, these taxes are not withheld like they are with employees. Small businesses must make quarterly payments throughout the year instead, says the IRS.
Legislators designed tax deductions to help companies on their paths to success. That's why costs that support business growth are often tax-deductible. Costs like charitable giving can be tax-deductible as well.
But tax laws are always changing. That makes keeping up with deduction opportunities difficult. The small business experts at 8x8 created a checklist to help keep your finances on track.
Your Small Business Tax Deductions Checklist
Maximize your tax savings as you prepare this year's finances. The following is a list of possible tax deductions you should keep in mind. Too many companies overlook these opportunities—you need not be one of them.
There are 14 important deductions in four categories. You deserve every penny these deductions can provide. That's because your company benefits others as well as yourself. This applies to your services, employees and tax dollars.
Recent Legislative Benefits
As mentioned, tax laws are always changing. Recent legislation provides some of the best small business benefits of all.
1. Qualified Business Income Tax Deduction
The 199A deduction allows companies to "deduct up to 20 percent of their qualified business income (QBI)." This applies to most types of business income. It also applies to certain dividends and qualified publicly traded partnership (PTP) income.
The deduction benefits all companies, but it is a boon for small businesses. It began in 2018 and continues today. It also provides more opportunities for new companies to succeed.
2. State or Local Tax Credit Programs
Smaller reforms under The Tax Cuts and Jobs Act also help small businesses. This applies to payments under state or local tax credit programs. Companies who make payments to government entities providing tax credits can deduct them.
Companies must keep track of legislation to identify future opportunities. This applies at the federal, state and local levels. Check IRS.gov and relevant small government websites each year for changes.
Business Expenses
Growing, for-profit companies need supplies and services. That's why business costs are among the most common tax deductions. But not all expenses are tax-deductible.
Deductible expenses must be "ordinary" and "necessary." Still, they need not be indispensable to qualify. For example, some transportation and recreation expenses are deductible. Consider how the following expenses impact your business.
3. Contractor and Freelancer Fees
If you're a new company, you may not have many employees. In this case, you rely on outside labor and services. These are necessary but can be expensive. Most of these costs are tax-deductible.
4. Business Use of a Home
Small business owners often save money by using home office space. This frees them from the costs of offices or storage. But home business expenses are still tax-deductible. The IRS claims these expenses may include mortgage interest and depreciation, among others.
There are dozens more opportunities for home business deductions. But many business owners fail to take advantage of them. They fear these deductions will send the wrong message to auditors.
This is doing your business a disservice. The IRS guidelines are clear. You can find the most up-to-date information on the IRS Publication 587 webpage. Some expenses include:
Heating and electricity costs
Rent per square footage of business space
Telephony, internet and other communication services
Office furniture and equipment
5. Use of Vehicles for Business Purposes
The premise for these types of deductions is simple. You can deduct vehicle expenses associated with business functions. But be sure you factor in personal use as well. If you use a vehicle for both, you must divide expenses based on actual mileage. IRS Publication 463 explains how to do this.
It's difficult to keep track of business expenses. You should keep records of costs like gas, maintenance, parking and even tolls. You should also distinguish between business and personal expenses. You can choose to use the IRS standard mileage rate instead. This allows you to estimate vehicle expenses. Simply calculate based on the miles you've driven for work.
6. Meals and Recreation
Some meals and entertainment costs are also deductible. These expenses must associate with business functions. "Taxpayers can deduct 50 percent of the cost of business meals" if they aren't lavish, says the IRS. Other examples include:
Holiday parties
Outings and team-building exercises
Workplace celebrations (e.g. employee birthdays)
Some limits apply to how much you can deduct. Work with a tax professional if you're unsure about these and other deductions.
Borrowing and Startup Costs
Most deductions apply to the full life of your business. Legislatures designed some deductions to get your business off the ground. These include some costs when financing your business. Consider the following deductions if you're launching a business.
7. Startup Costs
If your company is new, you have a lot of opportunities. New companies deduct thousands from their initial expenses. New companies can deduct up to $5,000 in startup costs. They can deduct $5,000 in early organizational costs as well. This applies to expenditures up to $50,000. Check with the IRS for the latest specifics.
These deductions don't apply while your business is operational. They only apply before you start selling goods and services. After that, all costs are operational expenses. Startup costs may include:
Initial capital expenses (e.g. equipment)
Costs for recruiting talent
Early marketing and advertising
8. Insurance
Business insurance is critical throughout the life of your company. But these costs can be prohibitive for new companies. You can limit your risk by deducting qualifying insurance costs.
These deductions apply to employee-related insurance. Employee health, workers' compensation and employee life insurances apply. Don't overlook insurance for your business. If you have company vehicles, deduct their auto insurance. You can deduct property and liability coverage as well. Less common insurances, such as business interruption insurance, may also apply.
9. Interest and Fees
The interest you pay on business loans is tax-deductible. Some fees required to finance your business may also apply. The same may apply for your use of credit cards. You can even deduct some overdraft fees from your taxes.
These apply throughout the life of your business. They are especially important when your business is new. Keep track of debt costs to maximize your returns.
10. Bad Debt
New companies make lots of mistakes. You may provide services to a client who never pays. Governments know this can ruin worthwhile new companies. That's why bad debt is often tax-deductible.
Some requirements apply. You must prove you have taken action to retrieve the money owed. Any costs from this effort are tax-deductible as well.
Other Lesser-Known Deductions
Several deductions go unnoticed by small businesses. These savings could boost your bottom line when you need it most. Consider how the following opportunities factor into your business.
11. Charitable Deductions
Countless individuals perform acts of charity each year. This type of activism is often tax-deductible. Charity on behalf of companies is tax-deductible as well.
Ensure receiving organizations qualify under IRS guidelines. Also, be sure charity is cost-effective for your company. With ingenuity, you can convert would-be waste into real savings. Charity can boost your brand recognition as well.
12. Moving Expenses
Companies of all sizes move to improve opportunities. Moving costs can be deductible no matter your company size. Deductions often apply to home businesses when the owners change residences, for example.
Some restrictions apply. You must move far enough to qualify. Your company may need to have remained in the new destination for a certain period of time as well. Consult with a tax expert for clarity on the requirements.
13. Repairs
Repairs are often forgotten soon after completed. But these one-off expenses are real business costs. You can deduct even simple repairs. Equipment failures, plumbing issues and even new wall paint may apply. These costs add up over the course of one year.
14. Personal Deductions for Business Owners
The success of your business depends on your wellbeing. Modern tax law reflects real-life challenges business owners face. That's why business owners can often deduct personal expenses. Deductible expenses may include:
Child and dependent care expenses
Personal retirement fund contributions
Personal healthcare expenses
Saving Money as a Small Business Starts With Good Investments
Tax deductions are essential to the health of your business. But deductions are secondary to good financial planning. Keep track of expenses early to get the most from your money. Ensure your long-term investments save you money over time.
As to what a long-term business investment is, equipment, office space and staff apply. But don't be short-sighted when selecting business solutions. The wrong choices may cost you later. Technologies age quickly, for example, requiring costly migrations to better tools. Communications devices and services are soon out-of-date as well.
Most communication systems need costly installations. But digital tools are reshaping the communication landscape. This is an advantage for small businesses that cannot afford the hardware. A secure cloud communication platform boosts productivity with minimal upfront costs. Unified communications solutions of this kind cost little as you grow and scale as well. They are more versatile, preparing your business for anything.
Powering Your Small Business With Cloud-Based Phone Systems
You can enjoy the same communication benefits as large corporations. Unified communications support high-definition audio, video conferencing, collaboration and other advanced features. They need little to no hardware investment as well.
Here are a few benefits a leading platform provides:
Unlimited national calling
High-definition (HD) voice and video calls
Business short message service (SMS) and texting
Services like call handling, hold music and voicemail
Group chat and collaboration features
Small business owners and employees rarely stay in one place. Your team can stay productive, even on the move. Unified communications support your team no matter their location. Your team need not miss out on sophisticated benefit, either. Leading tools integrate with existing devices and applications.
A unified communications system also provides a winning customer experience. That's because unified communications platforms are enterprise-grade phone systems. Customers who call won't think you're a small company.
Make the Right Impression With 8x8 Express
Give your business a professional identity with an easy-to-launch business phone system. Smart entrepreneurs choose 8x8 Express for their long-term growth. That's because 8x8 Express includes voice, HD video conferencing and team chat in a single mobile application. This comes at a fraction of the cost of traditional enterprise systems. It's a centralized digital environment for all your communication needs.
8x8 Express is ready the moment you activate your account. You can add users and change settings as your business grows. You may work from home with a team of contractors. You may rent an office with dedicated employees.
8x8 Express adapts to your unique set of requirements so you can:
Immediately begin making and receiving calls
Add users, lines and features through a simple online portal
Use existing devices instead of costly hardware
Integrate with G-Suite, Office 365 and other software
Get the easiest and most affordable phone system for your small office or home-based business. 8x8 Express provides you with unlimited calling, HD audio and video conferencing, business SMS and more. Start your free 30-day trial today!
This article was not written by a qualified tax professional. Consult with a licensed professional for your immediate tax needs.