Running Global Customer Service Just Got Easier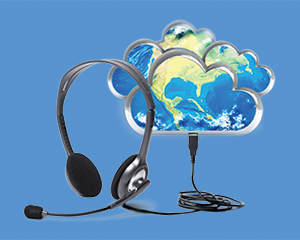 If you think running global contact center operations is easy, you clearly don't understand the problem. And until this week's introduction of 8x8 Virtual Contact Center (VCC) Global, you had very little in the way of ready-made international capabilities to help you.
"Managing a contact center with agents and customers distributed globally brings a complex set of business challenges ranging from call quality to agent availability to reporting and administration," says Nancy Jamison, Principal Analyst, Customer Contact at Frost & Sullivan.
That's the scope of the international support problem at companies like Shutterstock, an international purveyor of imagery such as photos, illustrations and video.
The company has customers in 150 countries and operates in 20 languages with about 60,000 contacts a month. It has about 100 dedicated contact center workers—who altogether speak about 20 different languages—with another 300 people spread around the globe that also need to communicate internationally. Shutterstock wanted them all easily connected, and chose 8x8's unique cloud communications platform for its ability to provide both international contact center capabilities and "normal" business communications such as phone, fax and videoconferencing capabilities.
It Only Looks Easy
Until you've had to do it, it might look easy. But how will you route calls internationally? How will you coach and evaluate agents who work in other countries or other continents? What if the agent best able to handle a customer's question doesn't speak her native language? And what about those really annoying gaps in conversation that can make every interaction too long and confusing for your customers to ever think of calling you back—or ordering from you again?
Those are just a few of the problems that 8x8 VCC Global addresses. VCC Global is the first cloud-based contact center solution that seamlessly connects an organization's international agents over a single platform with integrated presence, multi-lingual chat with automatic translation, call routing, and easy reporting and agent management.
Automatic Chat Translation Breaks Language Barriers
Consider, for example, the "simple" problem of supporting customers with chat. What if the agent doesn't speak the caller's language? 8x8 VCC Global automatically translates chats between agents and customers, so that each person can interact in their own language.
No More Epic Conversation Lags with Geo-Routing
VCC Global also routes calls with a patented technique called geo-routing, which picks the best data center to handle a call. That helps to cut the time it takes for a voice call to be received—especially since 8x8 has data centers that ring the world. That means there's usually a nearby center that avoids "bouncing" a call from continent to continent, the way most other contact centers do—if they can route calls internationally at all.  That's how 8x8 cuts those awkward conversation delays that cause people to talk over each other and frustrate international callers—and international business.
Improve First Call Resolution
As Frost & Sullivan's Jamison puts it, "This latest enhancement to its cloud-based contact center solution not only eliminates the latency experienced when only one data center is available to route calls, it allows businesses to maximize the productivity and effectiveness of its agents while improving first call resolution, by matching customers to the most appropriate resource."
In other words, everybody wins.
Managing Workers Globally Is Easier Now Too
In addition, VCC Global eliminates the complexity of logging into multiple contact center systems to manage traffic from different continents. With VCC Global, multi-national enterprises with international contact centers can:
Manage global call centers through a single worldwide platform with presence around the world and full visibility into the activities of all agents regardless of their location
Use the same reporting and management tools for all agents, minimizing the need for separate instances of configuration and management tools
Create agent groupings and queues without concern over the physical location of the agent
So if you want to make international customer support as easy as it sometimes look, check out 8x8 VCC Global.