Rolling Out the Red Carpet for Customers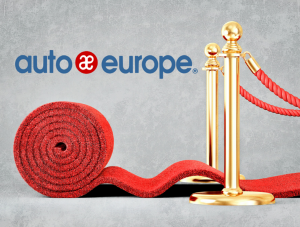 Today, we announced that Auto Europe is implementing a new cloud communications system from 8x8 that includes 600 Virtual Office seats and more than 300 Virtual Contact Center licenses. It's a great story on how our solution is helping Auto Europe enhance global customer experiences, improve employee productivity, and lower costs.  But the back-story reveals great lessons on why treating a prospective customer like they're already a valued customer pays off.
Customer Service Starts Before the Sale
Auto Europe's CIO, Dan Petlon, first discovered 8x8 while researching vendors included in Gartner's annual Magic Quadrant (MQ) report – a research methodology that offers visual summaries and in-depth analysis of the direction and maturity of markets and their vendors.
As 8x8 is ranked as a leader in the Unified Communications as a Service MQ, we were one of the key vendors that Dan considered as part of his vendor selection process. Ultimately, we are proud to say, Dan selected 8x8 for many reasons including reliability, high call quality, integrated solution, and other key features, but stellar customer service is what brought it home for him.
Taking a Consultative Approach
Within a week of our initial assessment call with Dan, we had conducted an in-depth analysis and our team was on site with Auto Europe soon after.  Our goal was to quickly build a rapport, and align our team members with the Auto Europe team.  By taking this approach, we established ourselves as a partner early in the process.
The only way to really understand customers' pain points is to get in the trenches with them.  We spent several days at Auto Europe's contact centers, both in the US and Germany. While there, we listened, learned and talked to everyone from top management to call center agents. We saw how they interacted with their existing communications system, what reports they used, how managers operated on the floor, and how we needed to integrate with their existing travel booking systems.
Being there in person also enabled us to see fundamental differences in their contact centers.  For example, in Munich, Germany, agents dealt with consumers in eighteen different languages. In Portland, Maine, they interacted in five languages and fielded calls mostly from travel agents and partners.  As a result, we tailored our solution to work seamlessly with the different reservation systems in each country, as well as took into account the various languages and the way calls were handled.
By spending time with the customer early, investing in the upfront assessment and aligning with the right Auto Europe team members, we were able to demonstrate how we could help Auto Europe be more operationally efficient with the right technology.
Putting Technology in the Customer's Hands
A key part of our process is getting our technology in the customer's hands so they have an opportunity to play with it. We sent Auto Europe our products early in the sales cycle, so they could use it, ask questions, and experience the features and value first hand.  One of our meetings with Auto Europe was actually conducted via video conference. They were impressed with the quality of the video in our Virtual Office Meetings solution and this was one of the salient features of 8x8 Virtual Office that Auto Europe was keen to deploy.
Dan's feedback is a great summary of their thoughts on Virtual Contact Center (VCC):
"Our agents were really excited when they saw the features they could have with VCC.  The tools we're getting as part of the 8x8 solution make us more competitive in terms of recruiting and motivating agents.  By making their jobs easier and giving them cool features, we'll be able to attract top talent."
Also, by giving Auto Europe the opportunity to test drive our technology in their office environment, they witnessed how we worked collaboratively with them day and night.
Recipe for Success
Although Dan's initial inquiry was for a new cloud-based telephony system for Auto Europe, working together we discovered that we could give him a new telephony system (8x8 Virtual Office) plus new contact center capabilities (8x8 Virtual Contact Center), for less than his current annual spend on telephony alone.
As with Auto Europe, our goal with every potential customer is to get to the heart of what's most important to them.  We try to understand their unique environment and needs, and recommend solutions that best meet their requirements.  Customers are at the core of everything we do and we aim to understand their pain points and – as we did for Auto Europe – help them develop strategies for success.
Some parting comments from Dan:
"8x8 took the right approach for our business.  During the sales process they kept their eyes on the ball and focused on demonstrating why their solution was the best for our needs, instead of why everyone else's solutions were flawed.  That's the kind of partner we need on our side."