Re-Thinking Enterprise Cloud Communications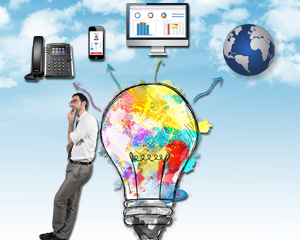 The time is now and 2015 is the year enterprises need to start shifting their on-premises unified communications and VoIP solutions to the cloud or risk falling behind. On-premises PBX systems have been steadily declining in the market while hosted VoIP services have been growing by double digits. Infonetics claims that globally, PBX revenue, including TDM (time-division multiplexing) and IP PBXs, dropped 6% in 2014 from 2013. In North America alone, according to Frost & Sullivan, the hosted IP telephony is a $2.5B market today, growing at 29% CAGR, and expected to become a $10B market by 2020.
But this is much bigger than just telephony services—it's truly about re-thinking enterprise communications.
In addition to the shift to a mobile and global workforce, two major forces are disrupting enterprise communications today:
Personalized Customer Experience—Customers expect a personalized experience in every aspect of their journey. That puts extra pressure on enterprises to deliver a level of service that is worthy of maintaining a customer's loyalty. According to Accenture, a personalized customer experience is in the top 3 priorities for 81% of organizations surveyed.
Bi-Modal IT—To enable the enterprise to run at customer speed, and as Gartner has recently reported, CEOs are moving budgets away from IT (mode 1) to Line-of-Business (LOB) owners (mode 2), demanding that sales, marketing and customer-facing executives become more responsive to customer needs, and operate in a matter of days/weeks vs. months/quarters. According to Gartner, 25% of organizations will have introduced formal bi-modal UCC programs by 2017.
As Tony Hsieh, CEO of Zappos, says "Customer service shouldn't just be a department, it should be the entire company." Therefore, business leaders need to think differently and deploy integrated cloud communications across the entire enterprise – to meet the requirements of both IT and the LOBs.
This paradigm shift in purchasing behaviors is impacting business around the globe and companies need to shift toward integrated enterprise cloud communication solutions to keep pace with their customers.
Ignoring this shift may prove to be a strategic mistake. The key is to play with the right vendor since market requirements are increasingly complex and getting more challenging as adoption trends extend into mid-market and distributed enterprises. Executives and key decision makers must now consider a number of factors during the planning process.
Top 5 Considerations for Migrating to the Cloud
Single, integrated platform—To better support their customers, enterprises need to break down the internal communications silos that separate their contact center from the rest of the employees. Companies need an integrated communications platform, one that enables an agent to reach any expert in the corporation to support an urgent customer need. One that simplifies operations and provides bundled services – for example, hosted VoIP and cloud-based contact center services on a single bill instead of multiple bills.
Deployment speed—Once purchased, businesses expect near-instant availability of a cloud phone service. Customer onboarding can happen in a matter of days or weeks versus months—even for deployments of 1,000+ seats.
Out-of-the-box integration with pre-packaged business applications—Many LOBs have adopted cloud applications for outbound sales activities and customer service, and want these applications to 'talk' with new services that comes online. Having a robust cloud communications solution that integrates with popular CRM applications such as Salesforce, NetSuite, Zendesk, etc. is critical for the LOB buyer.
Real-time analytics—Thriving businesses need to think beyond tactical problem solving. Newer cloud-based phone services can empower real-time business management and decision making processes with powerful, real-time analytics. For example, C-suite road warriors appreciate functionality that pushes data from the office to their fingertips. With advanced phone systems, CIOs or LOBs can view their iPhone while traveling and monitor call volumes, returned call activity or the MOS score of every extension. This empowers management with an ability to shift focus onto the company's strategic initiatives anywhere, any time.
Global, secure and reliable service—The ability to scale and leverage remote work teams or serve customers around the world is pivotal. Security and uptime are two of the most critical concerns for an IT leader, and historically, the key reasons why CIOs have been reluctant to migrate to the cloud. 8x8 has resolved these issues and today provides the highest levels of security and uptime in the industry — offering FISMA, FIPS, HIPAA and other compliance levels at 99.997% uptime worldwide.
Tick Tock
8x8 isn't the only vendor in this space with a respectable track record. However, the company possesses key valuable differentiators that meet business demands in a fast, secure, cost-effective and frictionless manner. More importantly, because 8x8 was born in the cloud, owns its IP, and maintains one of the strongest financial positions in the UCaaS space—businesses can trust the platform and count on cutting-edge innovations today and tomorrow. 
The bottom line is opportunity abounds for building healthy revenue streams for your business. Success, however, is not a given. To compete effectively in this market, time is of the essence to get on the cloud migration path! Tick tock.