Retailers Unify Their Experience with Unified Communications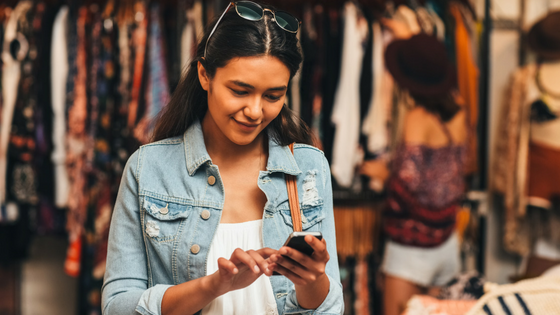 This post is part of a series focused on the retail industry highlighting emerging trends affecting consumer and retailer behavior.
Imagine you walked into a store today and the first associate you spoke with not only knew your name, but also remembered the last time you were there and the products you purchased. Imagine that during today's visit the associate also was able to recommend complementary products in your price range. "Impossible!" you say?
Go back a few decades and you'll find this was the retail experience. You went to the same store on a regular basis, and the same sales associate who had built a relationship with you during previous visits would provide personalized recommendations based on remembering what you like, how much you spend, and which new products are in your style. It's true!
The New Wave of Personalization
Yes, there are a few remaining retailers who offer this elite level of personalized service (like high-end
retailer Barney's, and some small boutique shops — if you visit them often enough). But largely, over the last couple of decades this concept has faded from the in-store shopping experience. The industry has pivoted from personalized to optimized, with a focus on efficiency and revenue per square foot (which often means fewer associates.) And, for a variety of reasons we'll
leave for another discussion, most
of these changes have been necessary and positive.
In today's environment, it's time to adjust one more time. Personalization has resurfaced in digital. And consumers are not only onboard with it, they're willing to help create a better experience. In Accenture's recent Pulse Check 2018 study, 83% of consumers said they were willing to share data in order to get a personalized experience, and a whopping 91% are more likely to shop with a brand that provides personalized offers and recommendations based on their shopping history. In addition, 48% of consumers stated that they have abandoned a retailer's site due to poor curation of products, that is, not personalized enough.
Now, personalization does have its limits, namely where curation ends and creepiness begins. Around 40% of consumers stated they don't like getting a text when they walk in or even walk by a store. Another 17% don't like personalization because they didn't knowingly share information with the retailer. Yet, as personalization becomes more commonplace, the majority of consumers are expected to warm up to it. 74% of consumers said they'd even be willing to adjust their profiles with brands to get more relevant offers and product recommendations.
It's Data that Powers Personalization
The key component of getting personalization right is often the toughest task to accomplish. It's not just collecting, but prioritizing and understanding the data in the context of the customer journey. At a recent retail conference, a speaker from a company that is a leader in personalization spoke about what it takes to do it right. No surprise: The speaker said the hard part isn't the data, it is iteration.
Retail has always been, and frankly still is, a leader in adoption. From technology to social media to experiences, industries look to retail to see what will happen next. For example, take a look at some research from McKinsey that I recently shared that shows how retail leads all industries in the amount of value being realized from artificial intelligence (AI).
Historically, the retail industry has been very risk tolerant, and comfortable with marketing efforts that were edgy and experimental, even when it was unknown whether a campaign or project truly increased sales or store traffic.
However, the prevalence of data has turned this model on its head: Instead of relying on estimates, retailers have morphed to be more like analytics companies, using data rather than speculation to drive decisions. So, if digital is your only channel, you're mostly all set. But what about the place where 90% of all retail activity takes place: the physical store?
Don't Let Your Communications Be Your Data Blind Spot
There are hundreds if not thousands of companies trying to crack the physical retail analytics market (probably the same ones that are texting customers as they walk in the store — digital stalkers!). But there's a blind spot in this ever-increasing pool of data, a fundamental channel that customers still turn to when the digital experience falls short: The phone.
Knowing consumer preferences across all channels may be limited, but you need to be able to understand why consumers are calling you, whether they're calling an individual store, your contact center, or your back offices. The key is understanding what that journey looks like — are stores passing your customers to the contact center? Are contact centers reaching out to stores for local insight? Is there inconsistency in the messages customers receive across different channels? Does inside sales have insight into customer service interactions so they can proactively ask if their recent call to customer service answered their question? Understanding your communications from the consumer side will help you resolve issues you didn't even know you had, because how can you fix what you don't know is broken? How do you make decisions based on only half the story?
Much like the classic example I talked about at the beginning of this post, in exchange for their loyalty, consumers expect you to demonstrate that you value their business by knowing who they are. This is why something as simple as looking up their account and past purchases when they call you is so important. These mechanisms have been built into the contact center space, but there's no reason they can't be duplicated across the larger retail environment.
For retailers, especially those worried about the threat of eCommerce, this approach can be a lifeline to gather insight and understand customer needs. For example:
Align resources with activity – By analyzing when customers are calling, such as a spike in call volume Monday mornings when you are having team meetings (you would be surprised at how often we see this situation – especially at car dealerships), you can adjust to meet the potential demand.
Align inventory with demand – Identify stores where demand for a specific product is high so you can make sure inventory is where it needs to be and increase availability to those stores.
Enhance support for promotions – And if a hot product is in stock at only certain stores, you can create promotions and route customers directly to those stores.
While digital is the latest channel to emerge in the retail landscape, the ultimate in retail personalization hasn't changed — it's connecting your customers with experts who are genuinely interested in giving them an amazing experience. The trick is to provide employees and customers the whole experience, not just the one your current phone system is limiting them to.
Learn more about 8x8 and our communication solutions for retail.