Replicon's Genius: Going Global Fast With Hosted PBXs and Call Center Software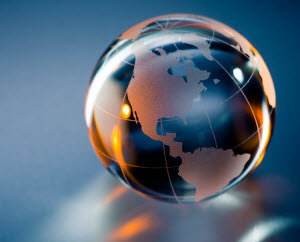 Sometimes, executive genius is about finding ways to achieve what seem like contradicting objectives. That's why I admire Replicon's global IT director, Neal Alberda, who was quick to see that a hosted PBX and a well-thought-out unified communications strategy could help his company go global while still "staying local" everywhere it goes.
That's not an easy trick for a large, growing company like his. Replicon is the leading provider of cloud-based time tracking applications, with 1.5 million users worldwide and offices in Australia, Canada, India, the United Kingdom, and the United States, and is growing quickly. Neal says Replicon's old PBX systems were OK—until the company started adding lots of new offices.
Going Global Without Unified Communications Is Expensive
Setting up each new office was tough, Neal told us.
"We had to maintain a voice gateway at every location," Neal says. "Device costs were high because we had to buy expensive phones whenever we hired new personnel, and reconfiguring the system every time we moved or added a user was time consuming."
That's when Neal started thinking seriously about hosted solutions—a hosted PBX to handle phone service, video conferencing and other unified communications needs, and hosted call center software to manage high-volume customer contact.
Reject Silos for Hosted PBX and Cloud-based Call Center Software
Neal also rejected the idea of separate silos for different types of communication—because he knew that might be almost as slow, inflexible and maintenance-heavy as the old premises-based PBXs he wanted to lose. "We needed a comprehensive solution: phones, online meetings and call centers." Replicon needed a real unified communications solution.
Once that decision was made, Alberda says the choice was obvious. "8x8 is really the only hosted PBX provider out there that can integrate a virtual contact center into its service."
Hosted PBX Service 'Has the Scalability to Keep Up With Us'
Alberda believes 8x8 cloud services will free his team from the burden of provisioning new offices and users.
"8x8's hosted VoIP service is a lot more nimble than our premises-based PBX," he says. "It's got the complete unified communications suite of features we need and the scalability to keep up with us."
Video Conferencing and Hosted Call Center Software Keep Global Dealings Personal
With 8x8 unified communications, hiring managers at Replicon can now use video conferencing to recruit top talent in other countries—which helps keep even global communications feeling personal and direct.
"We still like to have that face-to-face contact when we're making hiring decisions," says Alberda. "With 8x8 video conferencing, we can bring new employees on board with confidence."
In addition to hosted PBX service, Replicon has also rolled out two 8x8 Virtual Contact Centers: one for customer support and the other for inbound sales. Customer support agents all work at the same facility, while the sales agents are distributed across multiple countries for maximum local impact.
Rubicon Magnifies Its Global Reach with Unified Communications
Alberda says Replicon magnifies that impact by exploiting 8x8's Global Reach Initiative, which lets companies use international virtual numbers in 50 countries to establish a local presence. Companies appear local and in most cases, can offer their customers toll-free access and can even set up unique numbers for different campaigns and purposes.
As the CEO of a global company with a market capitalization of around a billion dollars (depending on the day of the week and time of day ☺), I know how hard it is to go global and still preserve a personal, local feel everywhere your company does business.
Neal and Replicon have found a way to leverage the current state-of-the art in unified communications to pull it off—and that's a big part of why we were so pleased to congratulate him on his unified communications innovation award at Enterprise Connect 2014. Congratulations Neal, and very well deserved.