Q&A with Analyst Jon Arnold, Collaboration & UCaaS Expert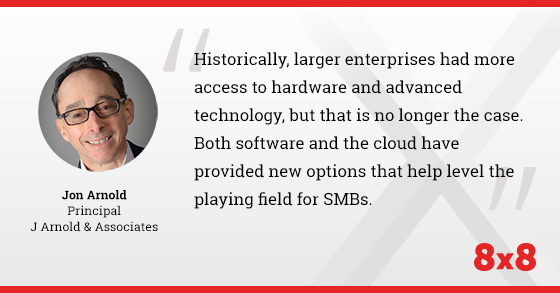 8x8 will host a webinar titled "How the Cloud Enables Small and Medium Businesses to Collaborate Like Large Enterprises" with communications technology analyst Jon Arnold and Brian Ventura, president at Soft Point Media, on Tuesday, December 4 at 11 a.m. PT / 2 p.m. ET. Jon is an expert in the field of unified communications, having been in the industry for over 25 years. In preparation for the webinar, we chatted with Jon about the future of unified communications as a service (UCaaS), collaboration best practices and why small and medium-sized businesses like Soft Point Media are leveraging the same technology as large businesses to reach their goals. Enjoy the interview below and register for the webinar.
Tell us a little about yourself and your expertise. 
I've been a technology analyst since 2001, and running an independent practice since 2005. Previously, I had a market research consultancy focused on business-to-business markets. In the technology space, my initial focus was Voice over IP (VoIP), and over time that expanded to what we now call unified communications (UC). With the cloud, this now touches many things, so my research scope addresses collaboration needs for both the workplace and the contact center. In terms of analysis, my forte is the business value of technology and how businesses can adapt to changes brought about by digital transformation.
What excites you about the future of the UCaaS industry?
The starting point is shifting deployment models from on-prem to cloud, which opens up many new possibilities for UC. This is the exciting part, but there's also great interest because we're still in the early stages of adoption, not to mention basic awareness. Unlike legacy telephony, which has been static and universally used for decades, UC is still new, and as new use cases emerge, adoption is sure to accelerate. The cloud has a big role to play here, not just for opening the market to hosted forms of UC, but also for supporting emerging layers of technology that will make the UC experience much richer. Prime examples would be AI, behavioral analytics and Internet of Things (IoT).
Collaboration is key to business survival. What are some of the top challenges that businesses have in collaborating? Is it a technology or culture issue?  
Both are definitely at play in terms of adoption challenges as well as realizing the end-user benefits. First-generation UC offerings were complex to deploy as well as use, and that was definitely a holdback. Things have definitely improved, especially with cloud-based variations, and as the applications become more user-centric, bottom-up adoption will improve. In terms of culture, there are several aspects to consider, but here are two that I address regularly in my work. First is the generational makeup of the business, and recognizing how younger workers collaborate differently and use technology differently than older workers, and that includes having a more native understanding of the UC value proposition. Second is whether the workplace culture leans more to being closed or open. Many organizations are collections of silos, and when that culture is entrenched, collaboration technologies will have a harder time gaining traction.
Our webinar is focusing on how small and medium-sized businesses (SMBs) can leverage the technology that large businesses use. Why is this important as companies plan for 2019?
All businesses are hyper-competitive these days, and SMBs need every advantage possible. Historically, larger enterprises had more access to hardware and advanced technology, but that is no longer the case. Both software and the cloud have provided new options that help level the playing field for SMBs, and collaboration is just one of the more current applications that have now opened up. In that regard, these are promising times for SMBs, especially those that embrace the cloud and digital transformation. These companies recognize how UC can make their workers more productive and their organizations more agile. SMBs have not had this kind of opportunity before, and UC is a prime application of today's technology they can be deploying right now, not sometime down the road.
Can you tell us one thing that you wish you knew earlier in your career?
Don't be afraid to ask what you might think are dumb questions. Our value as analysts comes from building trusted relationships across the industry, and until you get to know people, you can't assume what they do or do not know. It's easy to think everyone follows these technologies as closely as we do, and it doesn't take long to find out that's simply not the case.
One other thing—always trust your instincts. When climbing the learning curve for whatever you're doing, it's easy to second-guess yourself, especially when others are saying the opposite. If you want to follow the crowd, that's okay, but independent thinking takes work. Over time, staying true to yourself is the best way to make the journey worthwhile.
Rapid fire:
One place you want to travel to that you haven't visited?
Probably New Zealand – that would be cool. I am not well-traveled outside of North America, so it's gotta be far away and really different from here!
What was your first cell phone?
Probably the late 90's, and it was an in-car fixed phone. Pretty sure it was a Motorola, and it was great. Back then, cell phones were first designed for use in cars, since that's where the utility was. Later on, they became portable mobile devices, but, back then, nobody was thinking beyond use in the car.
What is one skill that you would like to learn in 2019?
As an analyst, a great new skill for 2019 would be learning how to get even better audio quality when recording my podcasts. On the personal front, it would be properly learning the basics for salsa and other forms of Latin dancing!