Personalize the Conversation: Integrate with G Suite
Complexity slows down productivity; simplicity accelerates innovation.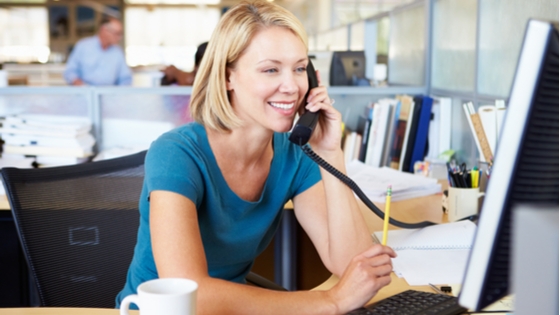 Email, phone systems, and collaboration are among the most used applications in the workplace today. Let's talk the numbers: Employees on average spend 28 percent of their work week reading and replying to emails, 92 percent of all customer interactions happen on the phone, and 50 percent of the global workforce is projected to work remotely by 2020*.
Collaboration and communication are lifelines for both knowledge workers dispersed across different locations and road warriors that are always on the move. There is no shortage of applications out there for different users and their demands. However, using multiple applications, while useful, adds complexity that may actually impede productivity.
With that in mind, 8x8 has expanded its Virtual Office and G Suite integration to provide your team with a single system of engagement. The best part about integrating 8x8 business communications with G Suite is any organization, irrespective of their size and industry, can use both applications as if it were a single platform.
The result? Reduced complexity and more intelligent, productive interactions between your employees and customers.
For existing 8x8 customers, the integration works with all Virtual Office licenses including Virtual Office Classic/Editions/X Series**. Companies looking for an integrated solution merely need 8x8 Virtual Office and G Suite.
Integration Capabilities
There are four key capabilities created with the integration. They are all designed to increase employees' ability to personalize the call at the speed of the conversation. The four capabilities:
Click to dial directly from Gmail and Google Calendar
Auto-filtering of emails related to the caller
Integrated search
Single platform of engagement
Let's take a closer look.
1. Click to dial directly from Gmail and Google Calendar: The integration starts by allowing users to dial phone numbers directly from the Chrome browser using an 8x8 Virtual Office softphone within G Suite. When using both Virtual Office and G Suite for business, the integration offers the Virtual Office dialer installed next to emails making it easy to quickly dial without having to move from one window to another.

2. Auto-filtering of emails related to the caller: This one is my favorite. A call comes in, you instantly get a screen pop up showing you who it is based on the corporate directory. Before you know it, all the emails you have exchanged with the caller are right in front of you. All non-relevant emails are filtered out. Now, when employees are very busy (when are they not?) and they receive a call from a customer, they have context at the speed of the conversation. That's not all. With every email thread, the Virtual Office section automatically provides records for the first or the last person in the thread, based on the user settings. The drop-down menu provides all the emails in the thread, which when clicked on takes you to the window with sorted emails exchanged between that person and you. The user can also choose to receive an email with a call log after every conversation.

3. Integrated search: Ever been in a situation where you are on a call with a customer who is asking a question that is outside your area of expertise? Wouldn't it be helpful to have the ability to quickly check if the appropriate subject matter expert can join the call? The integrated search feature provides a consolidated view of the records across the corporate directory, upcoming meetings, Virtual Office call history, phone numbers, extension, and even current availability based on Google calendar so that if they are "available", just click on their extension/phone number right from the search results and connect.

4. Single platform of engagement: The key goal of this integration is to provide users with a seamless experience from a single user interface. As a result,  the integration provides a single platform for emails and business communications. Now users have a consolidated view that makes it easy to navigate through all the emails related to a customer – during the conversation.

5. (Bonus feature) Connectivity with Salesforce: The integration comes with bonus points for Salesforce users on either Classic or Lightning. If you select to connect with Salesforce in the Settings, the search results will also provide information from Salesforce records. Clicking on the Salesforce records will take you to the Salesforce window containing that customer's information. That's a convenient feature when you want to log your call with a customer or make changes to the customer journey in Salesforce after the call. It's that easy!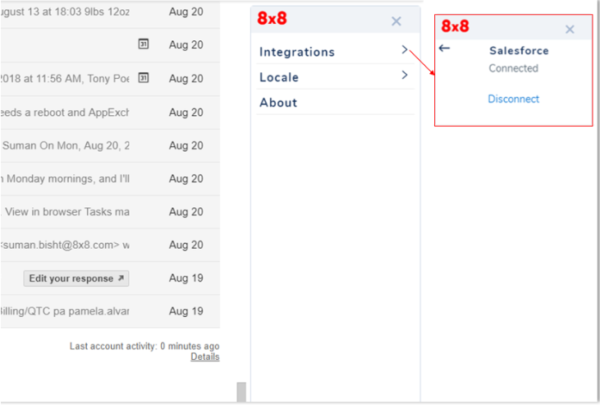 8x8 Virtual Office for G Suite offers an out-of-the-box integration at no additional subscription cost. It's free! And, if you would like to try these new features to see the difference they make, simply download the plug-in from the Chrome Web store. Once you have enabled your team with the integration capabilities, they will be able to personalize each discussion at the speed of the conversation.  
Find out more about Virtual Office for G Suite at www.8x8.com/G-Suite, or contact your 8x8 account executive for more information.
*Data sources: McKinsey Global Institute, salesforce.com, Fast Company (in that order). **Excludes X1 and Lobby of the X Series