Partly Cloudy or Clear…Are you Ready to Transform Your Business?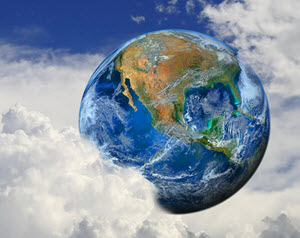 Is now the right time for you to transform your channel business? Are you ready to sell and support cloud solutions and finally become a Cloud Solutions Provider? Perhaps it's time to re-assess your business to see if your thoughts on cloud are getting clearer or still have a little gray.
As a company thriving in the channel, undoubtedly this question has emerged the past couple years. It doesn't matter if you are a VAR, telecom agent, systems integrator or other; many factors end up being the same. As technology and solutions evolve, so do your customers' needs and requirements. Remember, in order to stay relevant, channel organizations also need to evolve and adapt to the current market needs. However, wanting to change can be easier said than done. How do you determine if now is the right time to make a move?
It's not always a simple decision, but below are some helpful considerations that can jumpstart that process.
1. Identify your core competency and stick with it
Cloud computing is everywhere. You can't read about current market trends without hearing about the cloud in some capacity or another. But we'd all agree the term 'cloud' is pretty ambiguous. If you ask 10 different people what 'cloud' means, you'll get 10 different answers. It covers compute and storage as a service (IaaS), development platforms (PaaS), unified communications provided as a service (UCaaS), enterprise communications as a service (ECaaS) and every single software application offered as a service (SaaS).  So if you're looking to transform your business, make sure you focus on a section of cloud that relates to your core business. There is typically a cloud equivalent to a traditional on-premises solution and if you are looking to transform your business to be a cloud solutions provider, this is the easiest path. For example, if you are a VAR deploying back-up and recovery solutions, then look to partner with an online backup provider to expand your line card. If you currently provide business telephony or collaboration solutions, it's a good idea to offer customers a cloud-based option, such as 8x8, so they don't have to go to your competitors.
2. Determine what value you can add and how you differentiate
Cloud solutions offer a great opportunity to differentiate and add a new, non-traditional value-add. Traditionally, value-add within the channel has been focused around customer service, support, professional services, inventory positions and technical consulting. Over time it has been difficult to differentiate between channel organizations. Providing cloud solutions allows multiple opportunities to do just this by offering additional management services, deployment services, consolidation/single-sourcing options and more. Cloud solutions are still new for customers and they need help adopting. The channel provider who can make their customers' lives easier with cloud solutions will continue to win and be relevant.
3. Re-define your sales approach
Who are the primary engagement points in your customer accounts? Or simply put, who are your sales teams selling to? Traditionally, most channel sellers primarily engage the majority of their time and efforts with IT and procurement teams. This isn't a bad thing as it was where the market had been. Evolving to sell cloud solutions requires switching from IT/technology conversations to engaging with key Line of Business buyers and having a higher level business conversation. Make sure your sales team is ready for a different approach—it's now less about features/function and more about business value and impact. The adaptation is also internal—you'll need to take a hard look at your existing sales team. Do they have the ability and willingness to make this change? In order to be successful selling cloud solutions, you need to be willing to make changes within your sales ranks.
4. Make your financial model work for you
The financial model for recurring subscription service is very different from a one-time transaction. Historically, the volatility of the cash flow will keep channel executives up at night due to the unpredictable nature of one-time transactions and the relatively low margins. Even if the last quarter was good, one-time transactions force everyone to keep closing new deals to survive. The benefit of a subscription model is that once the recurring revenue is built up, it offers a predictable income stream.
The challenge is getting from here to there and crossing that financial chasm. It takes a dedicated commitment to build up multiple micro cloud transactions, and each incrementally builds the long-term subscription revenue. It is difficult to forego the upfront revenue from a one-time transaction to slowly build the long-term subscription revenue. It's virtually impossible to immediately cut over to a subscription based model and try to support a traditional operational infrastructure. Make sure there is a viable plan that you can stick to—one that balances both types of revenue streams with a realistic timeline.
5. Align to truly support cloud solutions
Changing your business model to include cloud solutions means adapting you business support functions.  Often times these are not factored into the decision. One of the more obvious needs is the ability to invoice clients on a monthly basis. Additional resources to handle the increased administrative burden or new technology automation may be required. Some partners, such as 8x8, offer an option for the cloud provider to invoice customers on the channel partner's behalf, avoiding administrative costs. In some cases, customer support may be required and need to be provided by the channel partner – even 24×7.  Make sure you understand the back office operations and work with your cloud provider to properly support customers.
Remember, no one can do it all alone. Selling standalone products with indirect agents only offering connectivity and dial-tone, or VARs only selling hardware and software products—are very difficult models to sustain in today's world.  Adding a cloud provider's solution into the portfolio can significantly help augment your organization's customer value and market relevance. Make sure you are partnering with the right providers. 8x8 is here, and equipped to make your business 100% cloud-ready when you are.