New Call Center Software Helps Create a Caring Culture AND Gets Results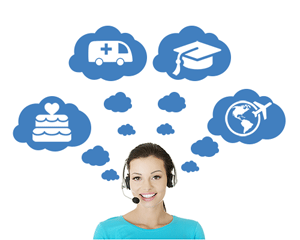 These are the times that try call center managers' souls—or at least their scheduling capabilities. The days are fast approaching when weddings, honeymoons, graduations and vacations will make it tough for the managers of the people who solve customer problems and make the sales that sustain their companies. New call center software, integrated with some cool employee-empowering features, could be just what companies need to manage busy call centers. Many managers want to give their teams the time they need to recharge and re-energize.
But the threat of having nobody available—or almost as bad, nobody qualified—to talk to customers, is a scary thing. And personal considerations sometimes look unimportant when weighed against business needs. And as anyone who has ever watched programs like "Undercover Boss" can see, employees develop intense loyalty when their employers help them take care of a sick relative, attend a wedding or graduation, or give them schedule flexibility to attend training or college. Worse, they remember it with resentment when they can't get time off to bury a loved one, or have to work overtime through their child's championship game.
The Value of Getting it Right
That's why it's crucial to get this part of your business culture right – crucial to your business success, as well as to the image you portray to your workers and customers.  Research, as well as good sense, indicates that when you create a culture of caring in the workplace, it pays dividends every day, with every customer interaction. Staff feel better about themselves and about their work, and it shows in the ways they interact with your customers.
For example, according to research by the International Call Center Management Institute, 57.2% of its responding members say their organizations have identified linkages between employee engagement and operational efficiency, and an equal percentage say their organizations have identified linkages between employee engagement and a better customer experience. Another study, in Applied Ergonomics, argues that "strategies should be put in place to ensure adequate levels of individual worker control over working time as the variability of hours increases."
Cloud Call Center Software Makes Rescheduling Easy
If you run or operate a  contact center with more than 40-50 agents, you know the stress of managing the staffing schedule to match expected customer traffic loads. And even when you plan well, unexpected events take a toll: illness, bad weather and natural disasters, as well as last-minute requests for time off. But did you know that the cloud gives you access to the services and resources needed to help you master the task of scheduling your contact center staff while demonstrating that yours is a corporate culture that cares? And because it's a cloud-based service, this new call center software comes pre-integrated, without the usual consulting or project management hassle that comes with in-house integration projects.
The Winning Combination: Call Center Software and Workforce Management
The combination of cloud-based Virtual Contact Center, from 8x8, integrated with Workforce Management from Teleopti, gives you the flexibility to hire literally the best agents in the world for your contact center, by empowering you to hire agents who can work from anywhere. You can also grant your local agents the option to work from home, or another remote location, any time human needs–business or personal–make that the best choice.Virtual Contact Center gives you call center software that enables a culture that cares.
Yet that's just the beginning. When you add Teleopti Workforce Management, you really gain the power of a focused analytics platform that lets you mix science with historical performance. You no longer need to guess how the real world will be a few days from now, because you have reliable, experience-created data to help guide you. Toss in a recognition of business trends, and add a touch of personal preferences, and now you're equipped to design a workforce schedule that serves everybody's best interest:
Virtual Contact Center tracks historical data, like call volumes, wait times, and call-handling times, and combines it with agent skill levels, sharing this information with Teleopti.
Teleopti takes that historical data and lets you add in organizational objectives, promotional activity, and transaction handling targets.
Teleopti then empowers contact center managers and staff to work together to design a schedule that meets target objectives, while giving agents the flexibility they need to manage their personal lives within the context of their work world.
A Unique Approach to Staffing
Teleopti's customers report average staffing savings of 25%, greater adherence to target handling times, and a much happier and more productive workforce. One of the great things about the Teleopti solution is the option to define guidelines that allow agents to trade shifts with each other, when those expected—or sometimes unexpected—life events arise. This makes the Teleopti contact center much more responsive to the dynamics of a changing work environment. Of course, results vary, by customer, however most customers experience the following benefits:
Reduced labor costs and cost per transaction
Increased forecasting accuracy and agent utilization
Lower agent attrition rates and absenteeism
Increased time for strategic planning
As you can see, the results include both operational business benefits  and opportunities to increase employee satisfaction by giving both workers and schedulers more flexibility. That's a win-win scenario. In fact, it's actually a win-win-win, because your customers win, the business wins, and the individual employee wins. And that is the advantage of a culture that cares. Learn more about this powerful call center workforce management solution.