Multiply Your Possibilities with Cloud Communications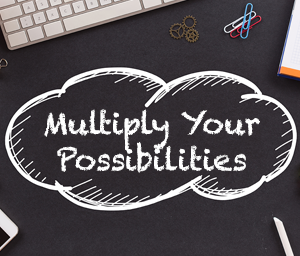 Seamless communication is something you should expect from your phone provider. But if you are using an on-premises phone system the chances are its old and doesn't integrate with your other methods of work.  Typically you take your phone for granted and don't think about it very often, unless it in fact, doesn't work. In which case, you should be aware there's a new generation of cloud-based phone services available to you that integrate with the systems you work with on a daily basis.
Expecting more from your communications system isn't expecting too much.
Many companies are surprised at the efficiency gains realized by deploying a continuous communications solution that grows with you and stays up to date month after month, without expensive and resource draining implementation cycles.
The workforce is increasingly distributed & mobile
Work used to be "a place" – not anymore. Today, people expect to be able to work from anywhere- when traveling, with customers or at a remote office- the expectation is that your office comes with you. Enabling flexible work also improves productivity – employees can stay productive outside of the office walls and even outside of normal office hours.
85% of employees use a mobile device for work; 81% of employees say flexible working arrangements improve productivity; while 75% of the US workforce spends at least 1 day a week away from the main office. The key takeaway from these market research stats is that more and more employees are distributed (work remotely) and are more mobile than ever.
Today there are more ways to stay connected than ever and even more mediums to do it through- desk phones, laptops, tablets, iPhone/Android devices, even wearables like Fitbit. A company needs to enable this level of mobility without adding undue strain on their IT and communications infrastructure. With on-premises solutions, this pace of innovation is difficult to achieve.
Workflows need to be more integrated than ever
Employees, for example, go about their day searching for context from prior conversations, looking up contact information for customers, scheduling meetings in their corporate calendar, jumping on a video conference and logging customer interactions in their CRM. For the most part, employees have to use three, four or even more tools to make this single workflow happen.
According to a recent research study, 36% of time during the day is wasted trying to contact people, find relevant information and schedule meetings. That means that over a third of an employee's time each day is spent looking for information versus being productive. This indicates that the demand for integrated workflows is more pressing than ever.
Communications should be seamless and consistent no matter which device or combination of devices is used. People are mobile. Continuous communications–the ability to move from desk phone to smartphone and then to a desktop softphone—should no longer be aspirational, but a reality.
Streamlined workflows are the norm and it's incredibly easy to integrate your communications and contact centers with CRM applications or Help Desk applications for better service and improved productivity with screen pop and click to call, etc.
For IT, the need for more integrated workflows taxes resources and time.  According to Gartner, 34% of IT budget is spent on application development and maintenance.  As the burden is on IT to integrate workflows via disparate applications, that's a lot of money spent on application development!
Changing Enterprise Buying Behavior
Technology purchasing decisions previously used to be strictly a set of IT-led, capital intensive, time-consuming projects. But today, Line of Business (LoB) executives are increasingly researching and discovering options that enable them to use their operating budgets to subscribe to departmental solutions, from cloud vendors which in turn, help them respond quickly to their dynamically changing customer demands.
Another challenge is how LoB managers and IT track, measure and take action on the service quality of communications systems and the productivity of their teams. The Internet of Things makes this harder, but also makes this possible.
But… Imagine the Possibilities
Imagine the time and cost savings possible if you could get plug-ins or APIs to map incoming calls to a screen pop of customer data or automatically log conversations in your CRM without additional time spent doing data entry. This can only be built into customer environments quickly and effectively with a cloud solution.
Imagine if you could eliminate all of your on-premises communications equipment and put it all in the cloud. No customer managed upgrades, no maintenance agreements, no trunking, no carrier bills.  One vendor, one bill. You could have any number of sites or users.  You would have full mobility, fully unified communications, bringing lower investment and lower costs, allowing you to redeploy precious IT resources, and improve and streamline your internal and customer communications.
The time wasted by trying to contact colleagues and customers, schedule meetings and look up information can be saved with an enterprise communications solution that truly integrates all communications, including conversation history across multiple devices and modes of communication.
Imagine still if this communications solution could integrate seamlessly for screen sharing, audio and web conferencing along with leading CRM and productivity applications. This communications solution would provide powerful analytics and reports to give actionable insights on how communications practices are serving business goals.
What I'm describing in this post is not a thing of the future but a reality today, made possible with true Unified Communications as a Service (UCaaS), providing truly integrated communications and workflow capabilities globally to unlock your company's productivity.