Multiply the Possibilities: Five Top 8x8 Blog Posts for 2016
Season's Greetings!  The year is coming to an end, and we wanted to remind you of the top 8x8 blog posts of 2016.

As a technology provider, vision is an incredibly important element in why customers ultimately decide to do business with you. Enterprises want to know that you have a clear vision for the future and how technology trends will impact what you offer. Without that vision, companies may end up implementing a system that doesn't integrate well, doesn't scale or becomes outdated very quickly.  However, this vision cannot be limited to just technology. It also needs to be tied to societal and generational trends that impact our workplace.  Read more…
Going global is more than just flipping a switch to expand into new locations and enter new markets. Companies need to figure out how and where to set up offices, hire local talent and procure new systems to ensure employees are productive and able to connect with customers and conduct business from day one. There are also local and state government barriers to contend with, such as labor and tax laws, and the barriers get exponentially more challenging for every new market entered.  Read more…
how would you feel if you eventually convinced a customer to come to your company or store to purchase a product but they were greeted with an empty room? Or they called in to buy something over the phone but couldn't reach anyone on the other end of the line?  And then they turn around and call your competitor. That's precisely what happens to one in five people who call a business, according to new research we launched today. We surveyed 2,000 British consumers to find out what challenges they faced when trying to speak to a company on the phone.  Read more…
We surveyed almost 200 attendees to uncover what they find most frustrating about video conferencing and call center experiences. The survey revealed some interesting insights around 3 key questions we asked a random selection of show attendees. Read more…
What worries you most about having communication services in the cloud?

What do you find most annoying about call center interactions?

What do you find most annoying about video conferencing?
Assuming you are now on board and convinced that building a cloud practice is in your best interest, this blog offers a guide for selecting the right cloud provider to partner with to solve your customer's biggest technology challenges. Without knowing where to begin or what considerations to focus your attention on, how do you select the one/s that will weather the test of time?  The good news is that no matter what cloud arena you are investigating (IaaS, PaaS, UCaaS, etc.) they all have the same criteria when selecting your go-to-market cloud provider.  Read more…
BONUS!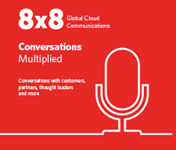 We launched our new 8x8 podcast series this year, Conversations Multiplied, and invite you to listen to and subscribe to the series.  Find us on iTunes or Stitcher; you can also stream via your connected smart assistants (Amazon Echo or Google Home) with the TuneIn app. Check out these episodes:
We look forward to delivering more exciting content next year along with additional episodes of our podcast series.  
Best wishes and Happy New Year!