Moving Daze: Cloud Communications Can Make the Phone Part Easy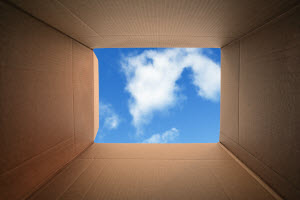 "One move equals two fires" was a favorite saying of the CEO of a company I used to work for. He used to get knowing laughs every time he said it—even though he said it a LOT—because almost EVERYONE in business understands how disruptive a move can be for businesses of all sizes.
And whether they're moving on, out, or up, many businesses find that some of the worst disruption of moving often comes from the challenge of keeping up communications with the outside world, when employees are still just figuring out where their desks are.
But unified communications based on Voice over IP (VoIP), or "in the cloud," is on its way toward eliminating the pain of disrupted communications. Many businesses find that the process is so easy that there's little or no interruption of their voice, fax, chat or contact center communications.
The Cloud Makes for Easy Moves and Expansions
"Most importantly, 8x8 cloud communications allow us to be portable," says Stephen Seymour, Principal Engineer and IT director for Seymour Engineering and Consulting Group. "The key benefit for us the fact that the phone system is IP based. We plan on moving our business to a larger location, therefore the IP-based system of 8x8 offers a near zero downtime for our phone system during the planned move. We just unplug from one location and plug in another, update our service address location, and BAM, we are back in business."
"The biggest thing for us is how easy it is to transfer your phone services," says Richard Campea, licensed sales producer at Allstate. "My company just moved to a new location, and thanks to 8x8 we were able to keep our same number and everything transferred over with no problems at all. We moved on a Saturday, and we were up and running that Monday!"
Initial Fear Turns to Enthusiasm for Cloud Communications
Sometimes, just the prospect of moving is pretty scary, especially if you have a lot of offices. But the end result, for many VoIP users, can be a much more smoothly running enterprise, with phones, fax, chat, and meeting capabilities in the cloud.
"We had probably close to 100 phones—as well as a few hundred more other virtual extensions and numbers—and it seemed like a pretty big nightmare even to think about," says Jarred Barrios, IT specialist at Basic American Foods, whose company chose 8x8 unified communications as part of its moving plan.
"This VoIP update has made the move so much less painful than it could have been," says Barrios, who says that getting a lot of new features that were unavailable in the old system has made it an easy "sell" to the rest of the company.
"We were moving from an old in-house Cisco infrastructure that my team inherited, so we were pretty much in the dark there, so having someone at 8x8 who was working with us and was knowledgeable about their system was very good," he says.
"I personally really like the [VoIP-based] Virtual Office Desktop, which is much better than our older softphone in the functionality of meeting integrations, chat feature, and so on," says Barrios.
New Moves and Additional Offices Are Even Easier with the Cloud
And once on a cloud-based system, additional moves and expansions are even easier.
"The absolute portability of the system is fabulous," says Jim Sventy, IT project manager at Health Republic Insurance of New Jersey. "Moving—which we have done twice in a year—was easy, even though we were adding locations, adding home-based phones that were immediately integrated into the system. There were no VPNs, no site visits—it's SO easy!"
For greater peace of mind during your next move or office expansion, see how easy a move to the cloud can be.