Mobile Unified Communications: Pet Moving Co. Explains Why 8x8 is #1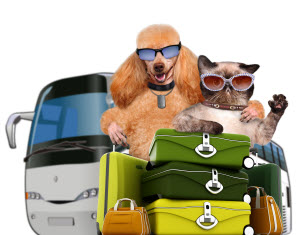 When Ellen DeGeneres isn't being funny, she's smart.
The comedienne-turned-talk-show-host once said, "Sometimes you can't see yourself clearly until you see yourself through the eyes of others." So I was a little surprised recently when I read Infonetics' latest Scorecard report that ranked 8x8 #1 in hosted VoIP and unified communications.
#1 Unified Communications Rank Wasn't Surprising—Transport Remark WAS
I wasn't surprised that 8x8 ranked first overall in unified communications. What caught my eye was this additional observation in the detailed report: "8x8 has also carved out a niche within the transportation industry." Infonetics had not only picked up on the fact that 8x8 is building traction in that sector, but saw it as a major trend.
Of course, we knew that we had lots of customers involved in transportation. As the report points out, we provide service to TMW Systems, a transportation management systems company with more than 1,000 lines across seven locations. We also serve KC Integrated Services, which spans 14 locations across six US states and Canada. Many of our customers are in transportation-related fields.
Businesses Love the Mobility and Privacy of 8x8 Unified Communications
And Infonetics was correct when it noted our "competitively priced services and a focus on highly distributed businesses." We've also done a lot of integration of our mobile app with our other unified communications services, so we have lots of customers who love being able to decide when to get work calls on their personal smartphones and other mobile devices, particularly when they're traveling internationally. This helps people save money and preserve the privacy of their personal cell phones. In many companies, 8x8 is a major part of a company-wide BYOD approach.
But it was great to read a report that noticed the trend and saw us as "carving out a niche in the transportation industry." And it's because our customers saw that we fulfilled important needs for mobility and freedom for businesspeople who roam in pursuit of opportunities. Some of these businesses—unlike TMW and KCI, which came to us as big, established firms—began using 8x8 when they were just starting out.
What People On the Go Say About 8x8 Unified Communications
I could talk to you all day about how scalable we are and how economical 8x8 is for any distributed business, but some of our customers say it better than I could. Customers like Linda Allison, managing member of Precious Pets Transportation. The company does pretty much what you'd expect, with a name like that, so its workers are used to being on the road. Linda's experience explains why we've become the go-to unified communications provider for businesses on the go.
"As we were driving all over the country, it was wonderful to never miss a business call; our office was in whatever van we were driving at the time," Linda says of the early years. "Ten years later, the phone was ringing nonstop. It was time to get [our phones and communications] off our hip and into a real office. The main number rings into our office in Virginia. Our sales person lives and works in Pennsylvania. Since I am almost always on the road I can get my calls whether I'm in Virginia, Maine, Washington, or California. Our business is now grounded, but yet still portable when needed."
I like the sound of that. "Grounded, but still portable when needed." Thanks, Linda, for that great phrase. And for reminding us all that in business, we get the clearest vision of ourselves through our customers' eyes.
Click here to see a more complete excerpt of the report.