Mastering the Channel Sales Maturity Model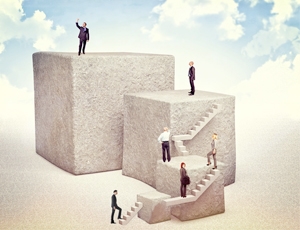 We've seen it time and time again, for one reason or another: A channel partner's sales team isn't getting traction for selling a manufacturer's solution. So…where are the breakdowns, who is to blame and how do you fix it?
Here are some questions to start with to help you trouble-shoot and get back on track:
Is it the partner's sales team fault?
Is their sales approach sub-par or is the solution too complex? Typically, the partner's sales team is quite competent at selling a different manufacturer's solution – so why not this one? 
Is it the manufacturer's fault or is the solution not viable for today's competitive marketplace?
Have the proper levels of training and sales enablement tools been offered and implemented?
Many times the training, enablement and go-to-market activities are simply missing the mark altogether. One-size-fits-all programs and general messaging from the partner's selling team will typically be ineffective. On average, only 10% of the sellers will actually retain a new manufacturer's training material. The first training typically tries to cover everything: from a company overview to the solution to objection handling to quoting, demos and more. This is too much.
The bottom line question is: How do you improve efficiency and retention to get more sellers ramped quicker?
Let's start with a simple approach to look at the seller's capabilities within a channel partner using this Channel Sales Maturity Model. It's a basic model to map any channel sales team against a particular manufacturer's solution. This should be viewed by the individual seller (not the aggregate team) to assess what level of maturity they are at individually. Let's walk through the model's levels of mastery to better understand it and how to conquer it.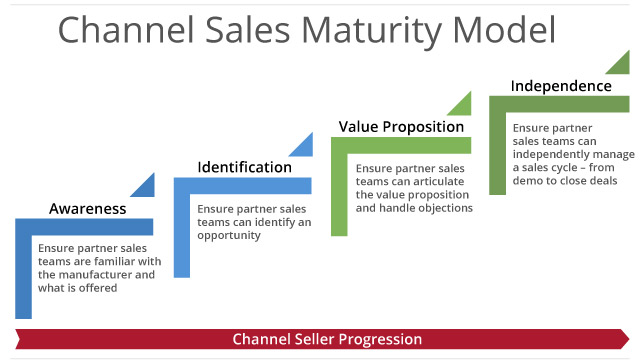 Level 1: Awareness
Does an individual seller even know who the manufacturer is, what they do and are they currently available to sell? This is the basic entry point for all sellers starting to position a new manufacturer's solution. Most channel companies will offer many different manufacturers to their customers, and very often channel sellers won't even know that X manufacturer is offered by their own company! I have seen way too many customers say, "I just purchased X and didn't know you provided them – otherwise I would've bought from you."
Level 2: Identification
Once that an individual channel seller is aware that a specific manufacturer is available on their line card, the next level of sales maturity is if an actual sales opportunity can be identified while talking with a customer. Are there key words or pain points to look for during a customer conversation that may fall on deaf ears if a seller is not properly trained? What are the triggers? Is a customer renewal of a software subscription or maintenance something to kick-off the conversation? Making sure the more channel sellers can identify an opportunity is key to building the top of the pipeline funnel. However, many times this is where a channel sales team's sales cycle stops and the manufacturer's laser-focused specialists commence.
Level 3: Value Proposition
If the channel seller has enough experience, the next level of maturity is to take the identified opportunity and start to run with it themselves. The individual channel seller has been trained and has enough experience to articulate the value proposition of the manufacturer's solution. This level of seller can also handle and navigate critical objections that emerge from customers. There is less dependency on the external manufacturer's team, allowing more agility in the sales cycle by avoiding logistical resource scheduling challenges.
Level 4: Independence
The final level of channel sales maturity is independence. Only a very small percentage of sellers in the channel ever obtain this level of sales mastery for any given manufacturer. Typically, this comes after several customer wins and by working extremely closely with the specialist manufacturer's team. A channel seller at this level would be able to completely run the entire sales cycle – from opportunity identification to demonstrating the solution, to quoting , objection handling and closing the deal. There is always a need to lean on systems engineers, but this level mirrors the mastery level of the manufacturer's internal specialist sales team.
Many times the manufacturer's goal and expectation is that all sellers will achieve the independence level of maturity. Expectations are that after the first two deals all sellers will be here, and statements are made such as, "We'll help you by running the first deal, then we'll shadow on the second deal, and after that you should be on your own." However, for any given manufacturer, the vast majority of all channel sellers will always be in the lower awareness and identification levels. In fact, the reality is that most channel sellers actually stop at the identification level due to manufacturer's programs. Most programs are designed to only identify an opportunity and toss it over the fence to the manufacturer to bring it home and close the deal.
I am not suggesting this is a bad strategy per se, but it must be designed, staffed and resourced properly to be effective to hit your goal. It must also have strong enablement materials and activities designed to exclusively engage at the first two maturity levels. For example, it does not do any good to teach a new channel sales team how to run a demo of the solution if the first three levels haven't been mastered.
Knowing what level channel sellers are at will allow a manufacturer to focus and target specific activities, resources and program to tailor the growth. Shotgun approaches with a "one-size-fits-all" are the typical approaches taken, and may work at times, but are extremely inefficient and wasteful of resources throughout the process. Manufacturers should target their programs, training, enablement materials and activities to focus on the specific segment of sellers at each level. Channel partners need to make sure not to treat all sellers the same by forcing them all to take one-size-fits-all training that doesn't help them reach their goal and be successful.
A channel partner's and manufacturer's mutual objective should be to get more individual channel sellers up the maturity model. The joint success will be directly linked to the percentage and number of sellers who move up the maturity model and master each level.
So…how do you effectively move a channel sales team up the maturity model, you may ask? Great question, and one that I will tackle and explore in my next blog!