Keep Customers from Fuming on Hold with Queued Callback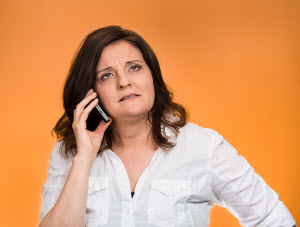 Bad customer service became a headline-maker in July and August, when Comcast representatives were recorded haranguing one customer and forcing another to wait three-and-a-half hours on hold, until Comcast closed for the day without taking his call.
It was definitely a counter example to the old PR saying that "there's no such thing as bad publicity."
The sad and costly thing is that a lot of ill will and damage to the company's already shaky customer service image could have been avoided, with technology called "queued callback." Many call centers use it these days, including California's Department of Motor Vehicles (DMV).
How Queued Callback Works
Typically, if wait times are getting long, or an agent with the right skills is unavailable, callers are given the option of a callback, without losing their place in line. When an agent becomes available and it's the customer's turn, the customer gets a call. Not only does this system make for less frustrated customers, but it also helps call center supervisors to manage call volume and agents' time more efficiently, too.
Manage Agent Time More Efficiently, Too
In addition, if a company's contact center technology is integrated with a customer relationship management system like Salesforce.com, NetSuite or Zendesk, then when an agent gets the call assignment, all the known customer information "pops" to the screen. (This capability is available in 8x8's Virtual Contact Center, for example.) There's usually enough time for the agent to quickly review what is already known about the customer and the call, so the customer doesn't get frustrated or waste agents' time repeating their entire customer histories and data. It's a win for everyone—customers, call center managers, agents, and the company's reputation.
If It Works for the DMV, It Can Work for You Too
The thing is, queued callback can work really well to calm down irate customers, if you're diligent about really getting back to them in a reasonable time. Even people who regularly get angry about wait times and lapses in customer service are still usually less upset if they're not sitting on hold with nothing to do except to think about all of the ways they feel you've failed them.
Everybody Wins
And even if you assume that what some customers are calling "the Evil Comcast" deliberately put pressure on agents to keep customers from canceling at any cost, using queued callback might have helped in several ways. First, it's possible that fewer customers would be so frustrated by long hold times, and fewer would be so irate that they want to cancel at any cost. Also, having the customer's history available before callback could prepare agents with possible strategies to win back customers who are already angry.
Everybody wins. And it's not even an expensive feature to implement anymore, if you do some careful research. And for companies that haven't already provoked such customer ill will, queued callback could be even more effective.