Is This Old Phone Myth Holding Your Business Back?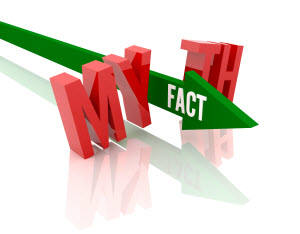 Adam Savage, Jamie Hyneman and their crew have busted a lot of silly ideas on Mythbusters, but they've never taken on the old VoIP sound quality myth. That might be one reason that so many companies still pay WAY too much for high-quality business phone service.
Myth Comes From the Dark Days at the Dawn of the Internet
Perhaps the mistaken idea that landline phone service comes with higher quality has its origins in the early days of voice over Internet protocol (VoIP). In those days, high-speed Internet connections were rare—and considerably slower than today's—and adding business VoIP phone service to those old dinosaur network connections could sometimes affect Internet phone service sound quality. Many of these early concerns were addressed by a new generation of Quality of Service (QOS) routers that were designed to let businesses give high priority to keeping quality high for business services such as communications. All modern routers contain this feature now, so it's always easy to give voice traffic a high priority over, say, Internet gaming. These days, many households and almost all businesses have the bandwidth to handle VoIP phone service. Some business VoIP providers, like 8x8, offer a VoIP test that you can run just to help determine whether your connection can handle it—or how much you should upgrade it to meet your needs.
VoIP Quality vs. Landline Quality—How Do Real Customers Decide?
But the myth persists, particularly in the 40+ demographic that remembers those Dark Ages.  Is there any truth to it today? Since Adam and Jamie aren't expected to take this one on anytime soon, we turned to intrepid VoIP customers to bust the myth themselves. 8x8 customer Kathleen McGinley, owner of Associated Cleaning Services in Savannah, Georgia, says in her experience, the myth is totally busted. "We lost customers because of our previous poor excuse for a phone system. Then we got 8x8, including five lines in four remote locations with one of the locations being in the Philippines and another across the country. The quality was superb!" In addition to the much better quality, McGinley says the new VoIP phone system helped save her time and money whenever it was time to make a few changes.  "The 8x8 team was right there for me to help fine-tune the menus. Now we never miss a call. The complaints from our customers have completely stopped."
Can Your Customers Sense the Difference?
Of course, for many businesses, the real acid test is whether their customers can tell any difference in quality. The last thing you want is to look like your company can't even get its act together on phones. Peter Cotton, president of Best Sales Talent, can bust that one. "None of my customers notice any change in my phone numbers or the quality of my calls," he says. And, he says, he now knows what he was missing by not adopting VoIP. "In the process, I also saved several hundred dollars a year over old land line fees and got many more features that the old telephone service provider couldn't offer."
Sometimes VoIP is Better—Especially for International Calls
And if you've ever tried making a long-distance phone call through a traditional phone, call clarity is often pretty sketchy.  The beauty of VoIP is that as long as both parties have a strong Internet connection, the call will be as clear as if callers are sitting across the room from you.  Plus, VoIP calls are often significantly cheaper than of those of traditional providers. Shevantha Abeyasekera, in product development for Nexgen Packaging, a global provider of packaging products, often has to communicate with employees around the world, particularly those in Hong Kong.  Abeyasekera explains that 8x8's desktop phone client is particularly efficient and is the best for such communications, "providing us crystal clear call quality."
Have to Get the Right VoIP Provider
Of course, as with anything else, there are lots of providers—with varying levels of quality—and you need to pick the right one. "8x8 has been a huge improvement from our previous VoIP company, RingCentral. We were able to keep our old phones, which saved the practice a lot of money," says Amber Mack, practice manager at Dominion Cardiology. "Not only is the customer service great, but the call quality is great too, and the cost is an unbelievable difference. We have had a lot fewer problems than we did before with static and bad connections."
This Myth is SOOOO BUSTED!
So if you've been looking for high-quality business phone service at inexpensive rates, don't let this busted myth hold you back. Switching is easy, according to our myth-busting customers. "The voice quality is great, and VoIP is so easy to use!" writes Vivian Yuan, supervisor at GROCO, an accounting/CPA firm. This myth is BUSTED, as Adam and Jamie might say. But your business budget doesn't have to be. To learn more about businesses saving money with business VoIP service, check out this e-brief. And if you're involved in a larger enterprise, read this objective RFP comparison to see if you might be able to save thousands on your unified communications.