Improve Customer Engagement with a Modern Contact Center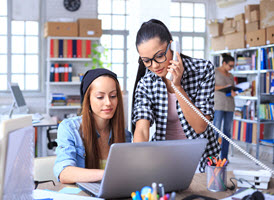 Communication is the lifeblood of any organization, regardless of its size or industry. From the moment a business interacts with a person, the customer engagement process begins. This means businesses, large and small, need to dedicate time and resources to build strong, long-lasting relationships, with both internal and external customers. While individual and team functions, such as sales calls, billing collections and IT support requests, are viewed differently, all of these actions make up a company's internal and external customer engagement. Providing excellent service to prospects and customers, as well as fellow co-workers is an essential part of delivering an outstanding customer experience.
Maintaining open channels of communication plays a major role in delivering positive customer experiences. Positive interactions help retain customers and enable employees to increase business productivity and growth. Conversely, a poor customer experience, a mishandled call, or not providing a high level of internal support can dramatically affect business success. According to data collected by Small Business Trends, 82 percent of consumers in the United States said they stopped doing business with a company due to a poor customer experience.
Businesses can improve the flow of communication with internal and external customers by implementing an effective customer engagement strategy. In today's world, customer engagement comes in many forms, but keeping the customer as a central focus remains key. Modern technologies are providing new and innovative ways for businesses to reinvent and enhance their customer engagement strategies. For instance, understanding the impact of mobile devices is an important part of improving modern customer engagement. An increasing number of service interactions occur on smart devices, so it is important that mobile customers are provided with clear links to live service to improve the customer experience.
Although traditional contact centers may seem complex and intimidating for many businesses, modern contact center solutions offer a new approach to solving customer engagement issues even for small businesses and teams in larger organizations. There are many benefits to implementing a modern contact center solution.
Improves the customer experience
Modern contact centers allow employees to easily make, receive or transfer calls and communicate with customers. These features can help a company, especially small businesses and teams, create clear channels of communication with both internal and external customers whether the business is prospecting for sales, collecting payments, responding to product questions or addressing complaints. Modern contact centers also enable businesses to address customer problems quickly and effectively. With ease, a business can provide technical support to help customers better use its products, facilitate transactions like returns, refunds, exchanges, and solve internal IT problems.
Increases Employee Productivity
Modern contact center software also offers advanced controls to users, allowing employees to easily make, receive, or transfer calls and communicate with customers. Customizing outbound campaigns to fit evolving business and user needs requires very little effort when using a contact center. Contact centers can enable businesses to monitor call traffic and user performance with real-time metrics and reports on customer information and overall activity.
Implementing a modern contact center software offers businesses a simple and affordable way to revolutionize communications by boosting the overall customer experience and increasing productivity. A new era of contact centers is here, and it's scalable, flexible and affordable and offers big features without the complexity.