If You Want to Communicate What's Important, Gamify!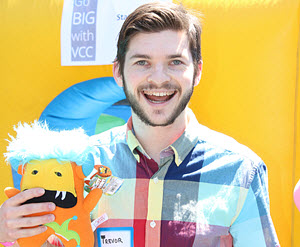 To students, working in the business world can sometimes seem synonymous with "all work and no play." So, as a new intern at 8x8, I didn't really expect anything fun or out-of-the-box to happen over the summer, let alone within the first month of working here. I was just happy to be working at the #1-ranked cloud communications provider.
I knew I would be getting great experience and learning many business tools, but I hadn't realized how different 8x8 is as a company until our recent product training on its Virtual Contact Center (VCC) solution. Through this event, 8x8 really showcased that it cares about more than developing the best business communications solutions—8x8 values its employees, its customers, and having fun too!
If You Want to Teach, Gamify!
The training used a technique called "gamification." The idea is to design games that communicate lessons that are important for employees to learn.
By using these techniques at the recent training, 8x8 proved that it wants employees to be informed about products, work together as a team and have fun! The behind-the-scenes manager for this event, Denise Martin, 8x8's Director of Training and Development, says it was all about getting everyone informed about the Virtual Contact Center—and having fun while doing it.
"We wanted to make sure that we set this tone that everybody has an opportunity to have fun, but also to learn. We also know statistically that people learn better through motion. We wanted this to be a chance for people to get outside, get some fresh air and also make people more comfortable with the Virtual Contact Center topic," Denise explains.
"So we tried to mentally couple the idea of a bounce house—something easy, child-like and fun—with Virtual Contact Center. We lowered the barrier so that now VCC is fun," she says.
Make Your Corporate Values Important to the Game
The first thing we did at the training was pick out a doll, which was to be our "customer" throughout the entire training. We of course treated our "customers" with the utmost care because 8x8 employees love and care about our customers—and if we hadn't, the 8x8 refs would have called a penalty.
The dolls also gave people something to talk about when interacting with coworkers, and added an extra challenge when scaling the climbing wall in the bounce house. Ever try climbing a rope one-handed?
How to Make Sure That Everyone Knows Your Elevator Pitch
We worked within subgroups of our departments to answer a series of questions about 8x8's Virtual Contact Center features and how customers can use them. You might be wondering how it's possible to build a set of 40 questions that is relevant to all employees, from engineering to sales to billing. Denise said that the key to creating these multiple choice and true/false questions was to find out what everyone generally needs to know about VCC.
"We went for what was common, which was basic knowledge about the products and how they help customers," she commented. "Some people don't need to know it in as much depth as others, but they should still be able to tell someone what it is if they're at a party or talking to their mom."
Gamify to Build Community
After answering three questions correctly, one group member was sent to run through the bounce house obstacle course with his or her "customer" in hand. Points were calculated for each question answered correctly, as well as each time someone completed the obstacle course without dropping his or her "customer." Points were also awarded based on how well the group was working together as a team. Not only did I have fun running through the obstacle course, but it was great to meet and work with others, while learning about 8x8's products.
Training Can Be a Lot More Fun Than You Think
"The cool thing was that people from different departments would come out to cheer on other people. The excitement grows and the momentum picks up steam, and now people aren't afraid—so the encouragement goes viral," Denise says. "It was such a community feeling, instead of 'I have to go to a class.'"
While planning this event took a lot of effort and energy, it's easy to see that "gamifying" training sessions definitely has its benefits. Using gamification techniques can make your next training a much greater success, because employees actually want to be there! Although the training was an hour long, it was so much fun that it felt almost too short. It was also a good break from the regular work schedule and brought out the fun, competitive side of employees.
Most of all, we learned something valuable that might help our customers.
Check out the short video from our training session!