"I'd Like to Order a Box of Cloud."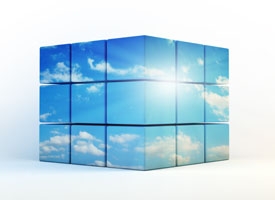 Traditional channel partners have found decades of success providing their customers with product-based and on-premises solutions. However, with the advent of subscription-based cloud services and Software as a Service, channel partners are seeing customers change the way business solutions are consumed. Customers are moving away from build-it-yourself and manage-it-yourself solutions to address their business needs. Channel partners not only need to be aware of this major market disruption, but they also need to embrace this change and charge forward — transforming their business.
Misunderstanding the use of cloud
We all know that customers never call and ask to order a box of "cloud." Typically they have a  business problem that needs solving or there is an emergency that needs immediate attention, such as an outage, business growth, management issues or just exploring more cost-effective alternatives at support renewal time. Today, implementing the shortest time-to-value solution is usually cloud-based. However, most of the time, customers are unaware a cloud-based alternative exists.
The truth is that customers will consume and implement cloud solutions without ever mentioning the word "cloud." Some discovery meetings with customers start with "What are your cloud initiatives?" Often the response is, "We have no plans to implement cloud computing." Upon further review, channel partners discover that customers have already implemented a cloud-based CRM, use a hosted expense management system  and want to outsource the management of their PBX phone system or contact center. Many customers already benefit from some cloud solutions and can leverage additional services. This is especially true surrounding customers' communications needs, where there is a major shift away from traditional on-premises solutions and vendors.
The cloud's role in business problem-solving
The cloud provides an alternative and improved approach to solve a business' communications needs. It bypasses the need for capital expenditures and buying new on-premises PBX or contact center hardware, software or services, and instead offers customers a per user per month subscription fee. Deployment times are drastically reduced while the functionality and flexibility are significantly increased. The same can be said for other business needs or 'workloads' such as backup, desktop management, storage, CRM and email archiving to name a few. Chances are there is a cloud-based option for most workloads that should be explored. Typical decision factors include capital expenditure vs. operational expenditure, cost, functionality, security and integration capabilities among others. Each will have pros and cons that should be evaluated to make sure the decision fits the business needs, however, the economic advantage combined with the functionality & flexibility of cloud solutions are too compelling to ignore.
The bottom line is that cloud computing isn't a fad — it's here to stay. Channel partners need to transform their legacy on-premises business to incorporate and lead with cloud solutions. Communications is one of the hottest markets today and one that is a great way to engage with both new and existing customers. We encourage all of the channel partners providing communications solutions to embrace this movement to the cloud.
8x8 will be at the Channel Partners Conference and Expo at the Mandalay Bay Hotel in Las Vegas April 10-13. Visit Booth 743 and chat with us to see how the World's First Communications Cloud can help transform your customers' businesses.