How to Work Multichannel Magic With Your Call Center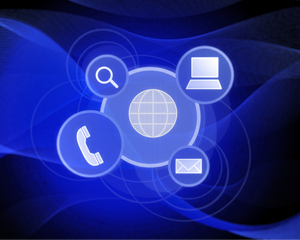 Are you leaving sales on the table or chasing away customers with less-than-satisfying interactions? Or maybe you're struggling to track interactions with customers who call, chat/IM and email your company, and expect your agents to know their entire customer history?
Real-life pros showcased new ways to handle these contact center issues and more during a recent Call Center Week trade show. The consensus? Multichannel support is increasingly a requirement to satisfy customers who expect to be able to use many different channels, such as phone, email and chat, to communicate.
Multichannel Customer Support Defined
In its simplest form, multichannel customer support is providing your customers with the assistance they need in the channels they prefer. Customers should also be able to shift channels whenever they wish. Contact centers' superiority in handling multiple channels is the defining difference between contact centers and their more limited call center cousins.
The challenge is integrating these forms of business communications, so that when a customer contacts a company about a particular case, all previous communications are captured in the customer's profile from data collected via any channel—and all that important data is available during every interaction with that customer.
From the customer's perspective, multichannel customer support must deliver a seamless experience across all channels, according to Aberdeen Research. Its recent report highlights that while phone interactions are still the dominant channel for service communications, email, chat, web, social media and mobile communications are gaining popularity as significant service channels.
Multichannel Customer Support Improves Your Top Line
Multichannel customer support can help boost new sales and repeat business. In many cases, satisfied customers will go out of their way to evangelize your products and services, referring more sales. Conversely, any business leader will tell you that the opportunity cost of mediocre or poor service is lost sales.
For example, international clothing retailer Zumiez, was experiencing customer dissatisfaction in the way its service center handled email inquiries. "Customers would call in to complain about lack of response or misinformation they had received, and I couldn't tell which agent had dropped the ball," said Rob Storie Customer Care Manager, Zumiez.
By integrating the call center with email, Zumiez realized a 100 percent increase in service levels thanks to 8x8 Virtual Contact Center. Instead of emails going to one shared email account, they're assigned to agents who remain accountable for closing the issue. Should the customer use the phone to contact Zumiez, the agent has visibility to the complete contact history, both phone and email.
Storie attributes the newly integrated system to helping the contact center handle record-breaking call volume during its 2012 holiday season. "We wouldn't have been able to manage such a large volume of calls without the reporting information the 8x8 contact center software provides," he says.
Often, the operational efficiencies gained from a multichannel support program help companies add new capabilities that better serve their customers. Zumiez, for example, is considering using the savings they've already realized to add live chat. "Using live chat to service customers is a more modern approach, and it's what our customers expect," said Storie.
Multichannel Customer Support Improves Your Bottom Line
Multichannel customer support not only improves overall call center efficiency, it also improves the effectiveness of each channel individually. They payoff is better customer service, lower churn and increased sales. Although voice is still the most widely used customer support channel at 73 percent, according to a Forrester report, it's critical that contact centers optimize each channel, because the mix is changing rapidly. In fact, the report says that online chat adoption had increased to 43 percent in 2012, up from 30 percent in 2009.
Boost the Value of Web-Browsing Customers and Prospects
The future of sales and customer support is in total integration of all channels. For example, subscribers to 8x8's Virtual Contact Center service—a VoIP-based, cloud-delivered solution that requires no equipment or infrastructure—are already greatly increasing the value of their customer contacts. They are expanding beyond traditional voice-based support and managing customer interactions using a plethora of multimedia and web interactions.
For instance, a hospitality business uses 8x8 Virtual Contact Center to check to see if a sales agent is available. If so, customers browsing the hospitality site see a button that offers to have a representative call immediately. If the customer agrees, the rep calls immediately. Company representatives say that the contact conversion rate has jumped from 5 to 25 percent for customers who agree to the callback.
In the future, hosted VoIP virtual contact centers will increasingly tie together web interactions, live voice communications, email and chat channels. This will help small and medium businesses manage communications with prospects and customers more effectively, based on a cost scale that is appropriate to the size of the business. These businesses will only pay for the actual contact center scale that they need, and there will be no real need for people in sales or support to be in the same room or even in the same office.
Multichannel Customer Support Meets Growing Customer Expectations
All indications are that multichannel customer support underpins customer loyalty. Your customers return because they can expect an easier and more pleasant experience from the moment they reach the call center, regardless of channel. Remember that from the customers' perspective, they're communicating with one company, despite multiple channels, so they expect consistency.

Best practices for meeting growing expectations in a multichannel environment include the following:
Leverage all customer contact data to optimize call center resources and improve agent performance.
Determine first, second and third customer preferences for contacting support, and staff your contact center accordingly.
Integrate preferred channels to give agents cross-channel visibility and provide customers with a consistent experience.
Monitor customer experience Key Performance Indicators in real time and address problems when necessary.
Multichannel customer support results in greatly enhanced customer communications and customer service, providing real, tangible benefits to your business' bottom line.