How to Identify Your Ideal Prospective Customers: 5 Key Questions to Ask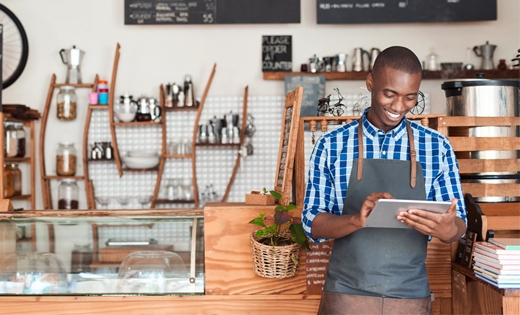 "You can't be everything to everyone, so stop trying." You've probably heard this advice before. This is particularly important as it applies to finding your ideal prospective customer. Whether you are an entrepreneur who's just starting out or you've been in business for a while, it can be tempting to go after every likely customer. Cast a wide net, right? Unfortunately, this scattershot approach can lead to wasted time, resources and, in the worst case, shuttered doors.
Even if you believe that you're immune to this misstep, think again. Instead of focusing on those who would benefit most from their product or service, many entrepreneurs and small business owners view everyone as a potential customer. As a result, they chase those who don't want or need their product and fail to serve those who do. Unsurprisingly then, a lack of market need is the most commonly cited reason for why startups fail, according to research by CB Insights. This problem often stems from a failure to understand how a product or service benefits a particular market segment.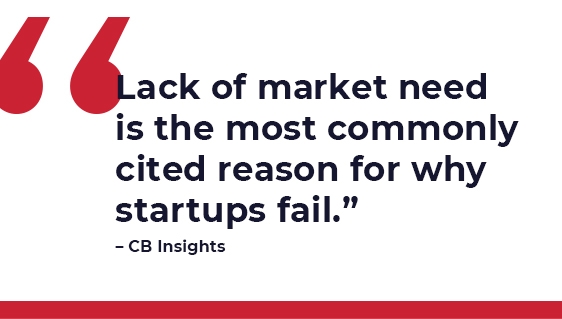 Let's take a step back and answer this question first: what is an ideal customer? An ideal customer is someone who will benefit significantly from your product or service and who, in turn, will significantly benefit your business—namely, by being loyal and returning customers.
How do you determine who is your ideal customer and who isn't? Here are five questions to ask that will help you to identify your ideal prospective customer and set your business on the path to growth.
     1. What problems or challenges does my product or service solve?
Understanding the specific problem(s) your product or service solves for customers is a critical piece of identifying your ideal customer. It's the people who are experiencing these pains who you want to focus on. The trap business owners can fall into, however, is only viewing their product or service from their personal point of view and not that of an ideal customer.
In an interview with Inc. Magazine, Michael Dell, founder of Dell Inc., explained that when he returned as CEO of the computer giant in 2007, it was apparent that the company had to change its business model because, as he put it, "the core business was beginning to deteriorate, and the data was piling up showing that the things we'd been doing before were not going to be the answer."
Dell continued:
"...the most important thing we identified was that we needed to know more about our customers and what problems they were really trying to solve in their businesses—even if they didn't neatly fit into an existing category of ours."
Dell's experience illustrates why it's essential to take off your business owner's hat and put yourself in your customers' shoes. What problem do you have that this product or service can address? What benefits would you gain if you were to own this product or use this service? How much are you willing to pay to experience these benefits?
While you still have your customers' shoes on, create a list of the problems or challenges your product or service solves as if you were a prospective, ideal customer. Keep these at the forefront as you market your business. They'll enable you to speak directly to those who are experiencing these pain points and clearly articulate why you are best suited to solve them.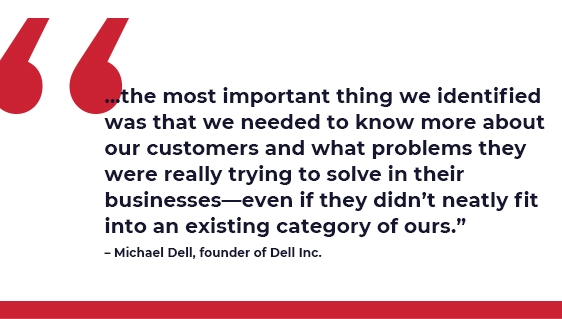 2. What objections might a customer have to my product or service?
You may think that you have the most fantastic product on the planet or offer an indispensable service. Think again. That's actually a warning sign of someone who's not putting themself in their customers' shoes. Reframe your thinking by asking questions like, what might prevent customers from buying what you're selling? Does a competing product have more features, is it easier to find or have a better price?
If you find that some people have a lot of objections to your product or service, then more likely than not, it's not for them. There's no point in trying to convince these prospects otherwise. Their wants and needs and what you offer are too far apart. Empowered with this knowledge, you can turn your attention to those who won't have as many objections. They're your target market.
Another benefit of this exercise? You'll learn how to address your weaknesses head-on. You may be able to justify a higher price because your product has more features than competitors, or you have more experience. You may also learn that you should lower your prices or tweak your product or service. By asking this question, you gain invaluable insights into your business and learn how to deal with objections proactively.  
     3. Why should someone buy from me and not a competitor?
In the headlong rush to open, many entrepreneurs and small business owners neglect to scope out the competitive landscape and think about why customers should choose them over a competitor. Related to question two above, you must analyze what sets your business apart from others in your space. Why should someone walk through your doors, visit your website and pay your prices?
Perhaps something that sets your business apart is that you offer complete installation. Customers don't have to lift a finger—you set up everything. Since this is a competitive differentiator for your business, there are two things you should do. The first is to identify customers who might be drawn to this value proposition. Working moms, single dads, those with limited experience using this kind of product … the list goes on. But you've found your niche. You're a full-service (fill in the blank) and cater to those who find value in this type of solution. The second thing you should do is make this a central part of your marketing and messaging.
Also, take a look at your competitors' target markets. Is there a segment they aren't serving that you can? Do they underserve their customers? This kind of research can yield a whole new source of prospective customers for your business.
     4. Who can afford my product or service?
As you work to identify your ideal prospective customers, you will want to create a customer profile. This is a description of your ideal customer that contains several characteristics, including:
Age
Education
Geography
Occupation
Lifestyle
Buying patterns
You can create as many customer profiles as you think are necessary to capture your target market. If you are marketing to consumers, one crucial factor you should include in every profile is income. Income will help you determine who can afford your product or service and who can't. It will help you hone-in your marketing and connect you with those ideally suited to become your customers.
Let's say you offer a cost-effective software solution. Your marketing should emphasize how affordable your product is, which will likely resonate with the budget-conscious. Or perhaps you're a personal trainer who wants to work with an exclusive clientele. Your objective, then, is to target those with the means to hire you. By taking your ideal prospective customer's income into account, you can spend your time and resources appropriately.
     5. Who are my current customers?
This may seem like an obvious question to ask, but it's worth mentioning. If you already have customers, they can be a wealth of information that helps you define your ideal prospective customer.
As with many of my previous questions, there are more probing questions you should ask. Who is buying your product or service? What problems or challenges do they have? How does your business help them? What are their characteristics—what's their customer profile? How did they find out about your business? If they are your "best customer," what are the characteristics that make you view them this way?
Consider doing a survey through Survey Monkey or Zoho Survey to gather some of this information. However you go about it, your current customers are an indispensable resource that can help you define your ideal prospective customer. When you understand your customers' characteristics, habits and motivations, you can replicate the efforts you used to attract them in the first place.
Take the Steps to Success
These are just some of the questions you can ask as you paint the picture of your ideal customer. There are plenty more, but these five should help you not only understand your customers better but also your business. As Dell's story shows, it's essential to evaluate your customers, products, services and overall business. By doing these things, you're setting your company to evolve and, ultimately, thrive.
If you want to learn more tips that will help your business unleash its full potential, download the eBook, "Within Reach: 5 Small Steps to Achieve Your Big Goals." It's full of actionable insights on how you can take your business to the next level. And if you're interested in a powerful phone system built to help small businesses connect faster and smarter, check out 8x8 Express. You can get a free 30-day trial today.