How to Earn Big Rewards via the 8x8 Referral Rewards Program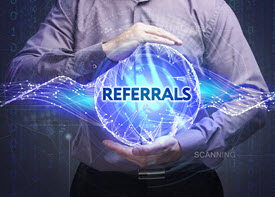 Companies are tired of the pain caused by legacy PBX systems. High maintenance costs, no disaster recovery, and limited scalability are a few reasons they're switching from traditional phone systems to cloud-based communication solutions. Plus, many small to mid-sized businesses (SMBs) want to avoid complex deployments typical of on-premises communications systems. And, it's another way to outsource the complexity, take on less overhead, and reduce costs.
The 8x8 Communications Cloud seamlessly connects employees, customers and applications to improve business performance for organizations anywhere in the world. It also opens up the opportunity for 8x8's Referral Rewards partners to reap the benefits of referring new business to 8x8.
Shift = Opportunity For Our Referral Partners
The growth of 8x8's Referral Rewards program reflects this shift. Partners are registering more referrals and earning between $300 and $15,000 for every new business that signs up. In fact, since 2008, 8x8 has paid more than $8 million in Referral Rewards to our U.S. referral partners.
We all love referrals, especially when it involves a great service that delivers value. Our referral partners span across industries. Accountants. Lawyers. Real estate professionals. IT consultants. You name it.
Registering Referrals: Easy as A-B-C
The 8x8 Referral Rewards Program is simple and straightforward:
A: Determine a business you'd like to refer to 8x8.
B: Fill out the online referral form in the Referral Rewards portal to register your referral.
C: Earn rewards for the referrals that sign up and pay for service.
After you submit a referral, our 8x8 sales team takes it from there. We contact your referral and complete the sales process. You're eligible for a referral rewards payout once the business you refer becomes an active and paying account for two months.
Our research shows that more than 70 percent of 8x8's referrals become customers. This results in great rewards for our partners!
Want to Earn Rewards of Up to $15,000?
8x8 has one of the more lucrative referral programs in the industry. Earn $100 per extension or seat (minimum of 3) up to $15,000. Now that's a reward!
You select how to receive payment: as a personal payout to you or as a check payable to your company. It's really that simple. (See the complete procedures, terms and conditions on our website.)
Get Started Today
With businesses quickly moving their communications to the cloud, it's a great time to get involved in 8x8's Referral Rewards program. It's a no-brainer and easy rewards for you and a quality communications system for the businesses you refer. Read more about our Referral Rewards program on our website or call 1-844-413-1788.