How Small Businesses Should Approach Unified Communications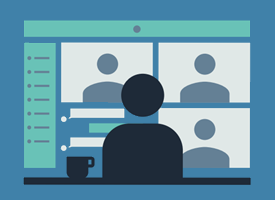 Small and medium businesses have their fair share of challenges that are unique to their size. Yet, while they need to be resourceful, they shouldn't have to choose between their budget and the right tools to enable their business to function and prosper.
8x8 recently partnered with Spiceworks to survey 175 IT decision makers in small and medium businesses (SMBs) in the US to better understand their insights on identifying their collaboration and communication needs and pain points. The responses were interesting. We found that unified communications and collaboration provides the greatest opportunity to bring SMBs into the workplace of the future. As businesses move toward a more mobile workforce, they need to focus on how the cloud can address all of their communications and collaboration needs.
Addressing The Company's Needs
Companies need to consider what communications technology, features and solutions will suit their business goals. When surveyed, IT pros listed their top considerations for communications as a means to improve internal (53 percent) and external (44 percent) communication, and increase efficiency and productivity (49 percent).
Having a communications platform that allows for seamless collaboration streamlines workflows among all lines of the business. The 8x8 Communications Cloud delivers an open, customizable technology solution that brings together all features employees need to get their jobs done in one place. Plus, the cloud allows for a level of interoperability that allows company tools to integrate with other cloud solutions seamlessly. With built-in integration with Salesforce, agents have the information they need to deliver personalized customer service.
Addressing The Global Workforce's Needs
The global mobile workforce is expected to climb to 1.75 billion workers by 2020, accounting for 42 percent of total global workforce. For many workers, the office isn't a physical location — it's a cell phone, laptop or tablet in a coffee shop, home office or airport. For small and medium businesses that hire remote talent, having a unified communications and collaboration platform that seamlessly connects everyone, everywhere is essential. Of the IT pros surveyed, 38 percent said supporting mobile and remote employees is a top consideration for their communication tools' use.
Survey respondents also indicated that while they use multiple voice solutions in the workplace, including on-premises PBX phone systems (65 percent), a large percentage also employ hosted/Internet-based phone systems (50 percent) and the majority use mobile phones (67 percent). It's important for small and medium businesses that hire global talent but don't necessarily have a centralized office, to offer a unified communications solution that factors in mobile apps, video and chat options.
Addressing IT Pros' Needs
Ultimately, ensuring the IT team can handle the influx of questions from employees and the rollout of new tools and resources is an important consideration for small and medium businesses. IT directors and administrators have one of the most demanding jobs in the industry. In a small business setting, they have to take on numerous tasks and wear multiple hats to support the entire organization. In larger corporations multiple people would handle help-desk requests, and you might have one person responsible for resetting passwords and another responsible for fixing hardware issues.
So when narrowing down which platform is best, the organization should consider how it will impact their IT team. Survey respondents are primarily looking for tools that simplify management (58 percent), simplify troubleshooting and support (47 percent) and simplify setup (41 percent). With the help of the right communication and collaboration tool small and medium business can save time and money while operating more effectively. To download the whitepaper, Powering the Workplace of the Future, click here.