How Digitisation is Driven by Your Communication System

New Changes and Digitisation
The world has changed. Millennials represent the largest portion of the workforce today at 35% and are going to be the majority of the workforce (50%+) in less than two years. And they grew up on technology. Their environment is a mobile first, digital world.
Studies from the Case Foundation have found what everyone intuitively knew: Millennials are intolerant of poor digital experiences. This is why it's becoming table stakes for companies to provide great digital experiences.
In fact, Mary Meeker's most recent Internet Trends report found that if companies don't provide great digital experiences, customers will leave them. 82% of customers stopped doing business with a company after a bad experience, which is up from 76% just two years prior. Those consequences are for B2C and B2B.
The stakes are high. After analyzing the results, the consulting firm McKinsey found that companies who become digitized outperform their competitors by a long shot. Those that don't are expected to suffer negatively, averaging -12% revenue growth and -10.2% EBIT (Earnings Before Interest and Tax) growth.
While there are billions of dollars spent trying to digitize, the reality is most companies will not succeed. A recent IDC study found that by the end of 2018, only 30% of manufacturers (and most likely all companies) investing in this area will be successful. The rest are held back by outdated business models and technology.
We need to ask, "What is it underpinning these successful digital transformations?"
The New Customer Experience
The common underpinning characteristic is companies realise they need to deliver superior customer experiences, which requires more intelligent interaction between employees and customers. It's the new way to compete, especially as transparency and competition further increase. 81% of companies realise customer experience is a competitive differentiator but few actually believe they have a good customer experience (source). Only 33% of companies rate their own services at a level of 8 out of 10 or better (source).
How can you digitise and compete on customer experience? You need to transform your communication system for more intelligent interactions.
The third wave of enterprise communications is here to help. Instead of siloed on-premise or cloud point products, third wave solutions entail one system of engagement and one system of intelligence, all integrating with your existing systems of record.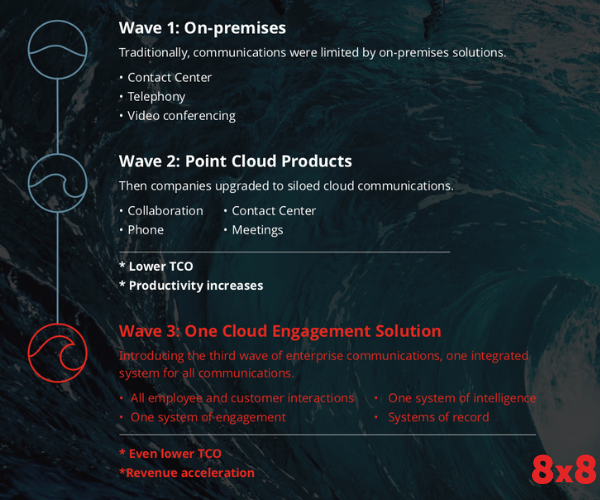 Changing Your Approach to Your Communications
Taking this third wave approach changes everything. You're able to move from unconnected employees to fostering a collaborative culture. From siloed messaging apps to connecting all of them through cross-platform team messaging and one click moves from voice to video to chat. From disparate data sets to actionable insights and analytics across all interactions. From multiple point solutions with a high TCO (total cost of ownership) and complex IT management and support nightmares to one global platform with vision lock for the future, a low TCO, simple IT management, and one support team. From telling customers "I don't know; I'm sorry I can't help" to being able to solve problems in the moment and delighting them.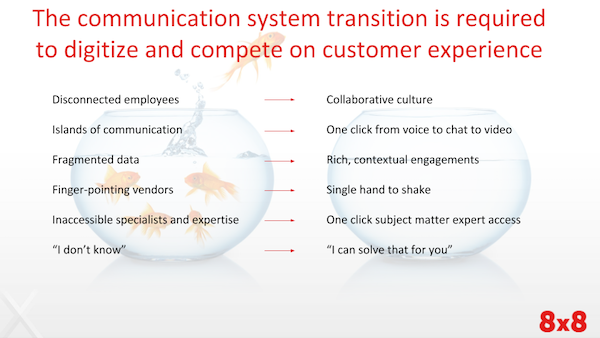 Enter 8x8's X Series
Making this a reality is why we created the X Series. 8x8's X Series transforms the customer experience by providing your company with the ability to intelligently and quickly collaborate across any channel and easily access the company's most critical data, analysis, and experts. It's one platform for all your phone, video conferencing, team messaging, and contact center needs. This means you can switch modes with just one click and track analytics across everything.
We're the only company who owns all of our technology for these components and doesn't have to partner with other vendors which makes us the only platform able to provide unique, end to end insights. Enterprises can now optimise valuable moments of engagement with one set of data in one system of intelligence. The results are faster time to resolution at a lower cost and a better experience for customers and employees.
With a single, unified cloud engagement solution, you can now arm employees with the tools they need to communicate, collaborate, and access the organisation's most valuable data and experts in one intelligent, easy to manage solution. One engagement platform allows you to move at the speed of employee and customer expectations, leading to less churn and more revenue.
We're hearing very positive feedback from our customers about it.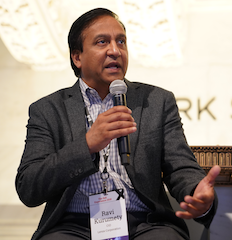 The CIO of Lenox, Ravi Kurumety (pictured to the left at our recent NYC 8x8 Experience event), said,
"Delivering an exceptional customer experience is the difference between thriving and failing for a business like ours. 8x8's X Series is the foundation Lenox needs, leveraging real-time customer data, an integrated set of communications tools and providing access to the right subject matter experts to transform our employee and customer experiences."
From EX (employee experience) to CX (customer experience), we believe the experience is everything.
Why does customer experience matter to your organization?
Tweet your answer to @8x8 with #CX for a chance to be included in our next blog post.