Hosted VoIP Handles the New Normal: Doing Business in Abnormal Weather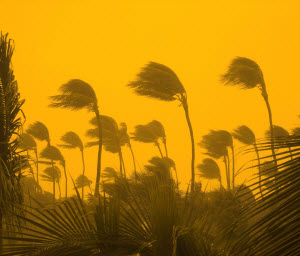 While politicians argue about what to do about climate change, companies around the world are now learning to cope with predictably unpredictable weather.
In the face of record-breaking hurricanes like Sandy and other chart-busting weather anomalies, many businesspeople have decided to plan in advance for whatever comes their way and "just deal with it."
These troopers are turning to disaster-resilient Voice-over Internet Protocol (VoIP) solutions to help them plan for previously unthinkable outages and disruptions to their communications. They've found that hosted VoIP phone systems can help keep them in business, no matter what Mother Nature throws their way.
Hosted VoIP Provides Back-up Communications Channels
The management of companies like iCruise.com, for example, factored frequent hurricanes into its decision to switch its unified communications to 8x8. Co-owners Uf Tukel and Don Walker say that 8x8's unified communications solution—hosted in the cloud on redundant servers located thousands of miles apart—is helping them prepare for the storms that regularly hit southern Florida. Now when their offices lose power, employees keep doing business by using the 8x8 mobile app on their smartphones and tablets, switching to the "soft" phone on their laptops, or plugging in their desk phones at home.
Where There's an Internet Connection, Hosted VoIP Finds a Way
"Our employees can work practically anywhere, as long as there's an Internet connection," says Tukel. "If there's no power at the office, we can all work remotely. Customers don't even realize that the office is closed, because our phone service is seamless. Thanks to 8x8, we're much better prepared for the hurricane season than in the past."
Luxury cruise lines aren't the only companies that are making business continuity a priority, either. Transportation company TMW says disaster planning and the need to "keep on truckin'" factored into its decision to move its communications to hosted VoIP provider 8x8.
Transportation Companies Turn to Hosted VoIP to Keep Movin'
"One of the primary reasons we chose the 8x8 solution was the built-in disaster recovery capabilities it offered," says TMW's IT director, Ron Godine. "There is no longer one single point of failure in our phone system because the 8x8 service architecture offers multiple redundancy and rerouting capabilities. Plus, if there is a power failure or Internet outage, our employees can simply unplug their phones, plug them into their home network and continue interacting with customers as if they were still in the office."
Hosted VoIP Helps New Englanders Ride Out Nor'easters in Style
This tough, no-event-too-unthinkable-to-be-planned-for attitude is not limited to tropical storms. Legendarily resilient New Englanders are turning to Hosted VoIP to weather their own storms and blizzards while helping others.
"With Nor'easters, having the ability to work from home is a blessing for our call center," says Alliant Insurance Services call center manager Mara Dicenso. "During one of the storms, a lot of our staff was without power, so I opened my home as a temporary call center. With the use of cell phones and PCs, we were able to support our business needs. I had the wood-burning stove going and served coffee. Our clients were happy, my staff was warm, and we were set to go. Technology is great!"