How a Hosted VoIP Business Phone System From 8x8 Found a Lost iPhone
Ever lost a phone in a crowded place—like an airport—and realized with a thud in the pit of your stomach that everything was in that little device?
If you have, you'll appreciate Tod Petty's quick thinking in rescuing his missing iPhone. Petty is president of Thrive Senior Living, a developer and owner of technology-enabled housing communities for seniors. Petty uses the 8x8 Virtual Office business phone system—powered by hosted VoIP. The phone system, which includes iPhone, iPad and Android apps—allows Tod to make calls from his work number anywhere using 3G/4G and WiFi.
While traveling recently, Petty left his iPhone behind in an airline terminal. Petty used the Apple "Find my iPhone" iPad app to lock the iPhone and send it a message asking whoever found the phone to call his 8x8 Virtual Office number. Within minutes, airport security found the iPhone and called the specified number. Petty answered the call on his iPad, using his 8x8 Virtual Office mobile app and was quickly reunited with his iPhone.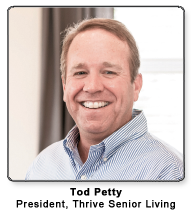 "My whole life is on my iPhone—contacts, schedule, you name it," said Petty. "Thanks to 8x8 turning my iPad into a second business phone, I was able to find my iPhone in a few minutes. I'm sure I looked funny walking around the airport talking into my iPad, but 8x8's mobile app really saved the day." (FYI, you can plug a cell phone headset into your iPad to minimize the funny looks.)
Petty says that hosted VoIP technology has helped him stay mobile and connected in other ways, too.
"8x8 is a great example of leading-edge technology," said Petty. "I can pick up my office phone in Georgia, dial four digits, and be connected to one of our offices in Texas. If I need to move one of our office phones, I just unplug it and then plug it back in at the new location and it works!"

Learn more about the full range of features offered by the 8x8 Virtual Office VoIP phone system here.