Hosted PBX Helps McLarens Achieve Dueling Objectives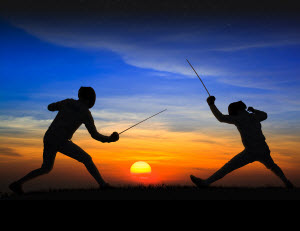 Do you ever feel torn between seemingly competing goals? That's a common problem for people who manage growing companies. You want to simplify, but exploit advanced technology. Standardize and streamline, but give people choices and flexibility. Grow, but save money.
It's rare that you find solutions that let you achieve all of these aims at once, observes Bob Hughes, Global CIO of McLarens. We spoke recently, when he accepted a Cloud Communications Innovation award at Enterprise Connect 2014 for transforming his company's communications with hosted PBX services.
Old-style PBXs Limited Growth, Flexibility
McLarens is an insurance services company headquartered in Atlanta. Bob says that back in 2009, the company had been expanding, but an old patchwork of PBX systems was causing big problems.
"They were hard to manage," he recalls. "We had to engage an outside company and pay a fee just to make simple changes, which was limiting our flexibility as a business." He realized McLarens needed a "technology refresh" and began looking for a replacement system that would unite the company's dispersed locations.
Hosted PBX Met CIO's Many Conflicting Needs
Bob saw that this was one of those rare times when he could make one decision and achieve lots of different, seemingly conflicting directives. We're honored to say, he chose an 8x8 hosted PBX system to handle McLarens' unified communications.
Hosted PBX Service: A Rare Opportunity in the IT World
"CIOs are under constant pressure to implement new technology quickly and cost effectively," Bob told us.
"But often we don't have the staff or the budget to roll out new capabilities. With an 8x8 hosted PBX, you can eliminate hardware, offload IT staff, and implement modern technology for a predictable cost. That's a rare opportunity in the IT world!"
A Modern Unified Communications System, at a Fraction of the Cost
"With our 8x8 hosted PBX, we could get a modern unified communications system for all our US offices at a fraction of the cost," Bob says. "And there was no hardware to manage."
McLarens now has more than 400 extensions on one hosted PBX, creating a single unified communications platform for the company's US offices. And because McLarens is a constantly expanding company with a large, mobile workforce, Hughes—as well as other McLarens workers—particularly appreciates 8x8's multiple options for users to work remotely.
Hosted PBX Conference Bridge Makes International Communication Easy
8x8's hosted PBX also makes it easier to handle international communication. Bob says that 8x8's virtual number service allows employees in other countries to dial a local number when joining a conference bridge, a significant cost savings for the company, since some conference calls have up to 200 attendees calling in.
"Conference calls are easy to set up, and we don't have to schedule them in advance," Bob says. "For security reasons, some customers like us to provide a new conference bridge number each time we meet. With 8x8, we can do that."
Hosted PBX Keeps People Happy and Productive—AND Saves Money
And of course, as CIO, Bob is understandably concerned about IT expenses. From his perspective, a key advantage of 8x8's cloud-based solution is that it provides a predictable cost structure even as the company expands its global footprint.
"I can talk to our London office for hours and not worry about incurring extra charges," he says. "Everything is included in our monthly service fee. That predictability is tremendously helpful in planning our IT budgets."
8x8 is Proud to Help CIOs Deliver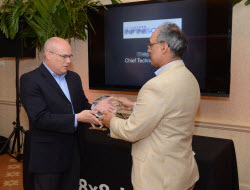 McLarens has expanded to 19 US offices, all of which use 8x8. The company is now considering rolling out the service to its European offices. Bob deserves great recognition for understanding so early—2009—how hosted PBXs can deliver on the "everybody wins" promise.
He also deserves high praise for being a tough but fair customer who has always demanded that we meet the same high standards that he set for his own team, and for himself. Because he was such an early cloud  adopter, we learned a lot about our enterprise customers' needs from Bob. We are grateful that he has always set high standards for us, held us to them, and believed all along that we'd come through.
8x8 is proud to warmly congratulate Bob and McLarens on their well-deserved Cloud Communication Innovation award.